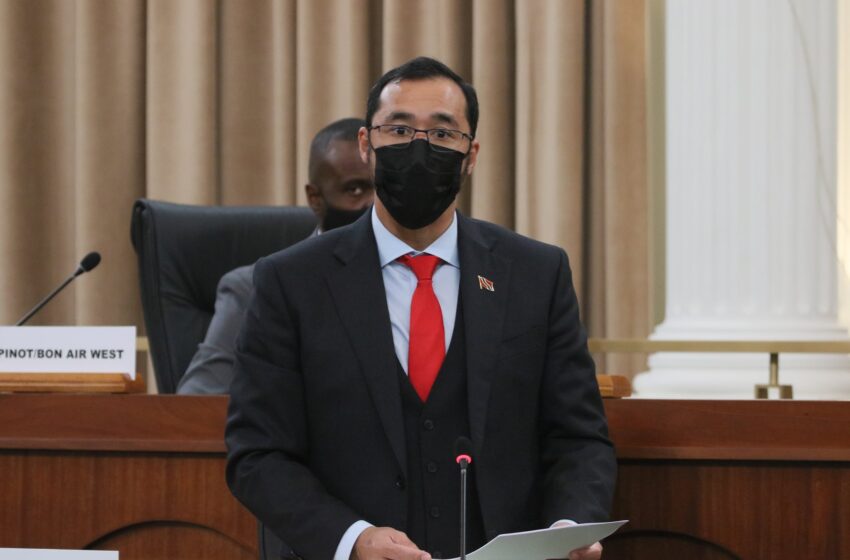 Stuart Young. Photo:/TT Parliament
Young to Ask DOJ to Investigate Purchase of Helicopter
January 6, 2021
84

5 minutes read
By Sue-Ann Wayow
NATIONAL Security Minister Stuart Young will be writing the United States Department of Justice requesting a criminal investigation into the procurement of the SIKORSKY S76 D helicopter that was leased by the People's Partnership Government in 2014.
This was announced by the minister on Wednesday at a press conference following statements made by former government minister Dr Roodal Moonilal that the reason the aircraft was in use was out of spite and malice for the previous administration.
The United National Congress (UNC) was the one who had questions to answer, Young said.
Young said, "The gall of this former minister and a then government coming to ask us questions. They are the ones who have to answer the taxpayers why they committed us to almost a million a month for an unnecessary helicopter that was configured and remains configured for executive use."
Milestone Aviation Group (formerly) Vertical Aviation LLC has filed a lawsuit in a New York court seeking to get US$13 million ($88 million) in compensation from the Trinidad and Tobago government for breach of contract for the leasing of a SIKORSKY S76 D helicopter in December 2014.
The former government signed an agreement to lease the helicopter at a monthly rate of US $139, 500   in 2014 for a five year period which was almost equivalent to TT$888,000 based on the then exchange rate and did not include  cost of pilots, operational costs, maintenance , insurance or any other costs, Young said.
He said, "By December 2015, the Air Worthiness certificate had run out so it could not be used anymore. There was no maintenance contract put in place beyond December 2015, for the use of this aircraft.
"And then, when we began to look at the exorbitant cost of utilising the aircraft realising the aircraft was configured for executive use and there was nobody in a PNM administration and Government who had any use to be travelling in a helicopter at taxpayers cost, we decided that this was not something worth pursuing and continuing to cost the taxpayers almost a million dollars a month."
Young mentioned several clauses in the agreement which raised red flags for the PNM administration which included waiver of sovereign immunity and  a net lease clause preventing termination of lease agreement.
"Why did the UNC give up sovereign immunity?" the minister asked.
On Monday, Moonilal had said, "This matter has absolutely nothing to do with sovereign immunity whatever that means. This has to do with the proper arrangement that we entered to obtain the use of a state-of-the art helicopter."
Young said the bigger issue for him was no ability to terminate because "it was always a red flag for potential corruption."
He said, "I shall be writing to the Department of Justice in the United States, to ask them to  commence a criminal investigation into the procurement of this contract, there are certain players who may or may not have been involved in the procurement  but they will also call upon Vertica to have to explain things. The investigation should be into Vertical and how they managed to get this asset leased by T&T for this exorbitant amount of money and more so without our right to terminate the contract."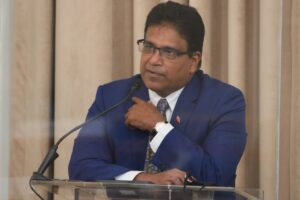 Young added the controversial helicopter leased was not configured to be used by law enforcers but is configured for executive use and along with unnecessary exorbitant costs, those were the reasons it was not being used by the present administration.
He said that T&T already have four major helicopters, AW139s used for law enforcement and two smaller ones which the People's National Movement (PNM) Government believes are enough at this time.
Young said there was no attempt to hide any helicopter as also stated by Moonilal and reminded the public of UNC's leader Kamla Persad-Bissessar's decision to use it as a means of transport  within the country when she was prime minister.
He said, "The helicopter could not be flown from December 2015, I personally have seen this helicopter, up at camp Cumuto. The helicopter was not configured for use by our law enforcement or by our military personnel in T&T. The helicopter is configured for executive use."