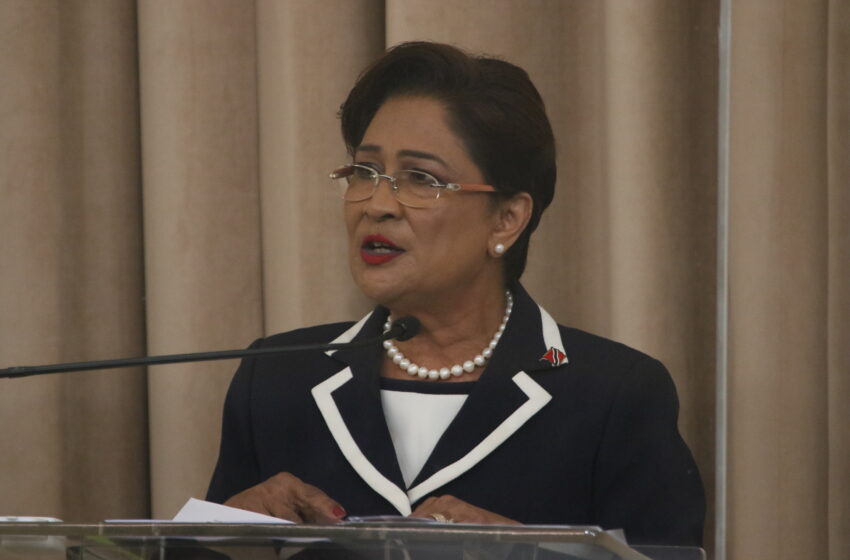 Opposition Leader Kamla Persad-Bissessar. Photo/TT Parliament
Kamla Asks India PM to Help get T&T Covid-19 Vaccines
March 1, 2021
71

4 minutes read
OPPOSITION Leader Kamla Persad-Bissessar is asking India Prime Minister Narendra Modi to personally intervene in helping to get Covid-19 vaccines to Trinidad and Tobago.
In a letter to Modi, Persad-Bissessar said, "Honourable Prime Minister, it is my respectful view that it is only with your direct, timely intervention and generosity that we may be able to combat the pandemic challenges at present.
"In this regard, I respectfully appeal your kind consideration to donate AstraZeneca Covid-19 vaccines to protect my fellow citizens,"
She made mention of the 2,000 Covid-19 vaccines T&T received from Barbados. These vaccines were from India.
Persad-Bissessar said, "Trinidad and Tobago is grateful to have already benefited from Barbados's donation of 2,000 doses of vaccines that originated in India."
She said, "However, as you may know, our population is about 1.3 million persons. My beloved country is reeling from the challenges of Covid-19.
"Over the last two weeks, we have repeatedly asked the Government of T&T to reach out to your government for assistance."
Persad-Bissessar said, "Should my humble request find favour with your good self, I am confident the necessary arrangements to accommodate the same can be made. I look forward to hearing from you. Please accept, Honourable Prime Minister, the assurance of my highest consideration."
"I commend the government and people of India for the exemplary role you have played worldwide in treating the effects of Covid-19.
"I sincerely believe that if the world manages to conquer Covid, it will be because of India's generous humanity."
He noted that T&T has a longstanding relationship with India and referred to her visit to India as Prime Minister in 2012 when she was treated as bharat ki beti – daughter of India.
Minister of Foreign and CARCOM Affairs Dr Amery Browne said that T&T has already contacted the Indian High Commissioner to T&T Arun Kumar Sahu about getting vaccines.
In the virtual media conference on February 25, Dr Browne said, "The Government of India is in a position to assist with the export of vaccines to our country but the purchase agreement must be made with the private sector."
Dr Browne said T&T's High Commissioner to India Roger Gopaul has reached out to the Serum Institute.
He added, "Unfortunately, the response from the private sector institute was that the Serum Institute is not in a position to accept any further orders for vaccines at this time."
The Serum Institute of India and another lab in South Korea were producing the AstraZenca Covid vaccine.
See related story below: