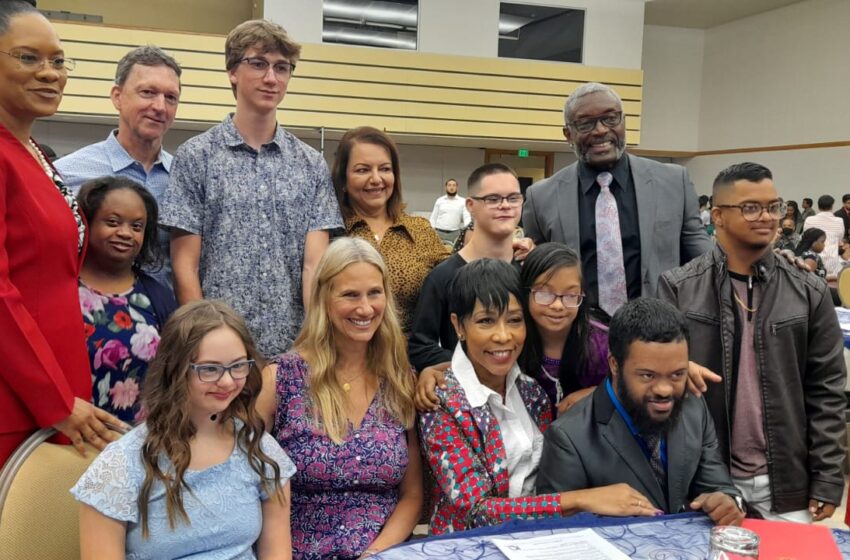 Down Syndrome model Monika Myers, seated left with wife of the prime minister Sharon Clarke Rowley, third right, and Minister in the Office of the Prime Minister with responsibility for Gender and Child Affairs Ayanna Webster-Roy, standing left, join attendees for a photo. AZP News/Sue-Ann Wayow
Down Syndrome: Include People with Different Abilities
March 22, 2023

5 minutes read
By Sue-Ann Wayow
TO every citizen of Trinidad and Tobago, you have a responsibility to include persons with different abilities and needs into the everyday activities.
This was the key message coming out of the Trinidad and Tobago Down syndrome Family Network (DSFN) conference held on Tuesday at the Hyatt Regency in Port of Spain.
While there was advocacy for legislation to allow for the integration of persons with Down syndrome, there was just as great an advocacy to not let anyone feel left behind.
As the world commemorate the 11th United Nations World Down syndrome Day on March 21, the local DSFN did their part too by rocking their socks and raising awareness about the syndrome that occurs when a baby is born with an extra copy of chromosome 21, determining how they are formed and function.
The star of the moment was Canadian model Down Syndrome ambassador and entrepreneur Monika Myers, 14, who shared her story about her inclusion into the education system, sports and her personal family life.
Myers has shared her story in an interview with AZP News.
She told everyone attending the conference that they were all brave and beautiful and they do not have to be defined by any diagnosis.
Some attendees teared up while she was presenting as a video depicting her life from baby to present day was shown.
Myers received a standing ovation after she sang a song "Beautiful" by Christina Aguilera reminding everyone that "You are beautiful, no matter what they say, words can't bring you down."
As the key person of the day, she received special attention from Sharon Clarke Rowley, wife of Prime Minister Dr Keith Rowley who also spoke at the event.
Clarke Rowley received a bracelet created by Myers encouraging women to be brave and beautiful.
In her address, Clarke Rowley said, "Discrimination, exclusion and low expectations cannot be allowed to prevail if persons with DS are to get into regular schools, get proper medical attention and live independently. Persons with DS must be allowed to integrate with others and it is up to each of us to ensure their inclusion in our society by influencing policy makers at all levels."
She added, "Persons with Down syndrome breathe just like you and me. They are our brothers and sisters. If we walk hand in hand with them, I am certain, that once given the opportunity of inclusion, we will all benefit from a shared environment of friendship, acceptance and respect."
Founder and Chairman of the T&T DSFN Glen Niles made the point that while many persons may know what to do for their own well-being, they may not, using the example of the mask wearing during the Covid-19 pandemic.
He said while it was a good preventative measure in the spread of the virus, it was only when it became law that individuals actually started wearing it.
So too, only if there was proper legislation in place that makes way for inclusion, then there will be heightened, awareness, compassion and measures put in place for those individuals.
Niles told attendees, "Be that person to make the difference."
He said solutions were needed not excuses.
Using the US and Canada as examples  that have integrated systems for children and adults with Down syndrome, Niles asked, "How could they be like this and persons in Trinidad are not like this?"
He said, "Society still thinks they can do nothing because they are special."
Niles echoed the word of Canadian High Commissioner to Trinidad Kumar Gupta who said, "Minority rights are not understood until the majority is educated."
Gupta was also present at the function.
Minister in the Office of the Prime Minister with responsibility for Gender and Child Affairs Ayanna Webster-Roy acknowledged Niles plea for proper legislation.
She said she has heard his call but more important than legislation was mutual respect for one and simply for citizens to have "good behaviour."
The minister said she would like to see that despite the policies and laws in place that citizens make a conscious decision to elevate Trinidad and Tobago.
Admitting that there was still a lot of work to be done, she spoke about the development of the National Child Policy which recognises the rights of a child as fundamental human rights.
Senator Paul Richards also expressed similar sentiments.
Also speaking on the importance of legislation for persons with disabilities and their right to choose "Legal capacity and assisted Decision making" was Principal of the University of the West Indies Professor Rosemarie Bell Antoine.
Executive Director of the NDSC in the US Jordan Kough also spoke.
Myers is here with her family and will be part of a fashion show on Wednesday at the Hyatt and the conference on Down Syndrome continues on Thursday in Tobago.