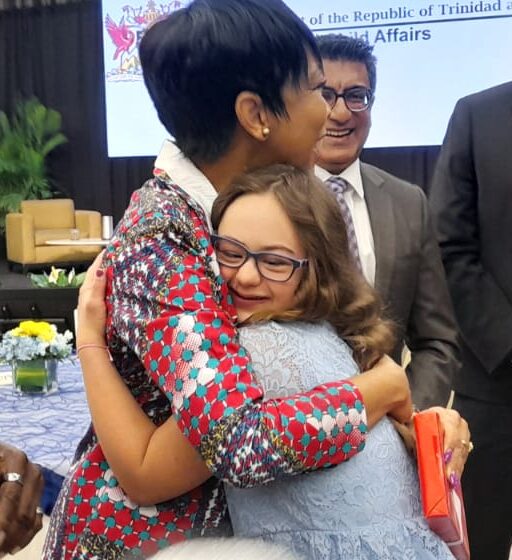 Down Syndrome model Monika Myers hugs Sharon Clarke Rowley at the Hyatt on Tuesday. AZP News/Sue-Ann Wayow
'Brave and Beautiful' Model Myers Brings Awareness to Down Syndrome
March 21, 2023

18 minutes read
By Sue-Ann Wayow
BE brave and beautiful.
This is the main message that 14-year-old runway model Monika Myers wants to share with citizens of Trinidad and Tobago when she arrives in the country this week.
Myers, a Canadian national, is a global inspiration becoming the first model with Down syndrome to walk in many runway productions for world famous designers in Canada and New York.
She is also the title holder of the Youth Day Global Down syndrome Ambassador.
Last year, she appeared for the first time at the New York Fashion Week and at Toronto Kids Fashion Week.
On March 22, she will be on the local runway at a fashion show featuring some of the local leading fashion designers and houses including Claudia Pegus, Ecliff Elie, The Cloth, Charu Lochan Dass, Lisa Faye and Radical Designs, to be held at the Hyatt Regency Hotel.
Former Miss World Giselle Laronde-West, current T&T Miss World Aché Abrahams and reigning T&T Miss Universe  Tya Jané Ramey will also be participating.
Myers is the feature speaker at a conference being hosted by Trinidad and Tobago's Down syndrome Family Network (DSFN) at the Hyatt Regency Hotel in Port of Spain on Tuesday and at the Shaw Park Cultural Complex in Tobago on March 23.
Principal of the University of the West Indies (UWI) Rose-Marie Belle Antoine, Senator Paul Richards, Executive Director of the National Down Syndrome Congress Jordan Kough, Director of Down Syndrome International Patrick Clarke and T&T's DSFN founder and chairman Fitzherbert Glen Niles are all expected to speak at the conference.
According to the United Nations, the estimated incidence of Down syndrome is between one in 1,000 to one in 1,100 live births worldwide. Each year, approximately 3,000 to 5,000 children are born with this chromosome disorder. In December 2011, the General Assembly declared March 21 as World Down Syndrome Day and adopted the theme "With us not for us."
In Trinidad and Tobago, there are approximately 400 families registered with Trinidad and Tobago's DSFN.
Down syndrome is a condition in which a person has an extra chromosome that affects how babies are formed and function.
Myers wants to tell the world  that a disability does not define a person's ability.
AZP News spoke with Myers and her mother Stephanie Myers via Zoom recently from their home in Toronto.
They both said they were thrilled and excited to be visiting Trinidad and Tobago and to be a part of the conference and fashion show that they hope would bring more awareness about persons with Down syndrome.
Myers motto "brave and beautiful" stems from an interview when a journalist asked her about how she felt about being on the runway and her response was, "I wasn't nervous at all; I'm brave and beautiful."
Since then, she went on to launch an inspirational bracelet with the message, "Be Brave and Beautiful," which can be bought from her website iambraveand beautiful.com. Part sales go to charity.
Her family will be bringing 600 of those bracelets to distribute in Trinidad.
Myers told AZP News, "I am proud of who I am."
Stephanie Myers said, "Monika is always telling everybody how beautiful they are and she truly believes that every woman is beautiful…I always tell her how beautiful she is too."
She added, "I like to share that message because she is so right. Every woman is beautiful in our differences. We are all the same. No matter what colour, race, religion anything at all, yet we are all different and that is what makes us beautiful, its our differences."
A Grade nine pupil at St Joseph College in Toronto, a schools for girls, Myers fell in love with dresses, make-up and fashion as a child.
Her mother said she loved to dress up to go out and with a preference for dresses.
Her modelling inspiration came from Puerto Rican model Sofía Jirau who is Victoria's Secret first model with Down syndrome and after signing on to international model agency Zebedee, Myers modelling career began soaring.
Stephanie Myers  said they have had nothing but positive encouraging comments. 
"Everybody has been really supportive, really positive, and embracing," she said.
When asked how she felt about being on top runways, Myers said, " I feel so great, I feel like a princess."
"I think she feels strong and empowered," her mother added.
"The bracelets she came up with was to empower others to believe in themselves so that they think that they too are brave and beautiful."
The importance of inclusivity 
One of the major points that Stephanie Myers emphasised was that her daughter was not made to feel different from anybody else from day one.
She said inclusivity was extremely important in the development of her child and can't imagine her life without her.
There were challenges in the beginning medically and Myers had to go through several therapy sessions.
Stephanie Myers said, "We had to say that this child was gonna be ours regardless. Some 14 years ago I would have hoped that it  has changed a little bit that there is more awareness, more acceptance. We were going to take our child regardless and looking back, I couldn't imagine a life without her, this is a gift. We have to respect our life, respect every person on earth and just respect everybody's ability and their choices and just respect everybody's life."
"I think an inclusive life is key and then you start to see your child as any other child you have," she added.
Monika,  lived an inclusive life and has never experienced being treated any differently due to her diagnosis.
She went to normal kindergarten, played with the other children and were involved in their activities, played with the other children in her community and went along with the family to hockey games and other events.
Her brother also had to go with her for her therapy session which their mother said taught him compassion and patience.
The other models who walk the same runway as her also love her as they see her as as "inspiring, cool and fun."
Along with inclusiveness, support was also needed.
"We are all people, we all have different abilities, we all have meaning in life, we need to support one another, we need to see each other as human beings," Stephanie Myers said.
She said the support was in allowing  people to do what they want to do to help each other find their passion in life.
"As parents, it is your dream to see your child be happy in whatever they are doing," Stephanie Myers said.
The education system was a huge support system as they catered for children with slower learning abilities within the main school system.
Having her immersed with all the other children, they were great role models for her as typical children.
"She was just like any other child… Nobody judged because they were all just little kids and I think that that was very crucial," Stephanie Myers.
Her daughter would have learnt socialisation, speech and how to keep up just by being around them.
Now in Grade 9, apart from academics, the girls also have to learn cooking, life skills, they have to go to the gym, religious classes, vocal classes amonst others.
"They have a small class size for kids who need extra help in academics… and whatever theier ability, they can be integrated into the rest of the school," Stephanie Myers said.
Without hesitation Monika told AZP News that her favourite subject in school was Art and that she also like biking and swimming, synchronised swimming to be more specific.
She does swimming at a competitive level, training three times a week, as a solo swimmer as well as with other girls.
Stephanie Myers said, "It is the integration that is key and that is where I find Monika's best behaviour is, when she is the happiest, I think she feels the most confident in herself…She makes them happy and they make her happy."
"Honestly, Monika has never known anything else than being included," she said.
To parents, she said, "Believe that your child is no different than anybody else."
Support the work of the local Down syndrome associations 
Stephanie Myers said that their local Down syndrome association was important to them when Monika was younger as they were able to meet many other families with a child with Down syndrome as well. 
"It is very comforting to know that we were not alone and that we had the support of this group. It is wonderful to see that there is such a strong organization in Trinidad and Tobago with the Down syndrome Family Network.  The support and advocacy from them is important in raising awareness for people with Down syndrome and their abilities. With more awareness, the people are accepted, included and allowed to shine as individuals," she said.
Stephanie Myers also said, "The DSFN conference is very impressive in bringing awareness, support and to bring people together from all areas of the world to share in conversations for best success. We are excited about the fashion show, to allow all to shine and to once again bring awareness to the abilities of people with Down syndrome."
She also thanked T&T DSFN founder and chairman Fitzherbert Glen Niles and honourary board member Lisa Ghany for their assistance and support.
For more information on either the conferences or the fashion show that is free to the public, persons can contact 480-4026 or email infodsfamilynetwork@gmail.com.