Crime Round-Up: Several Held for Being in Bars
September 5, 2020

3 minutes read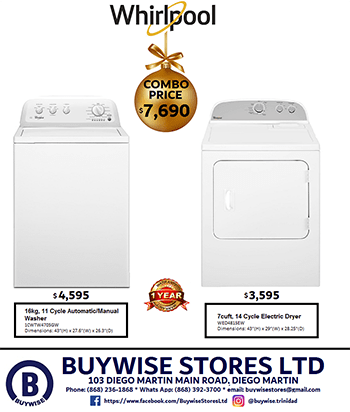 SEVERAL people were arrested and charged on Friday for breaching the Covid-19 measure which does not permit the gathering of more than five persons in public spaces.
In one incident, police arrested 12 who gathered at bars in Marabella.
Police reported that the arrests were made during an anti-crime exercise conducted between 2 pm and 6 pm.
Gilbert Brewster, 84, Norbert Garcia, 77, Mario Salandy, 49, Maniram Dookie, 56, Roger Samaroo, 29, Harridan Bachan, 28, Lalchan Manuel, 58, Calvin Tambie, 50, Kumar Kamal, 57, Keith Joseph, 57, Tameeka Simmons, 34 and Emily Feng, 33, were arrested in two separate incidents at bars located on Tarouba Road and Union Road in Marabella. Feng, the owner of one of the bars, was also charged with aiding and abetting.
Feng was released on a $15,000 bond, while the other 11 suspects were all granted bail in the amount of $10,000 and will all appear at the San Fernando Magistrates' Court on November 10.
Snr Supt Yusuff Gaffar, of the Southern Division, noted that exercises of this nature will continue throughout the division and urged citizens to obey the law regarding gathering in public spaces in order to reduce the spread of the COVID-19 virus.
The exercise was supervised by Insp (Ag) Santana, coordinated by Sgt Ifil and Cpl Burke, and included officers from the Marabella Police Station, Marabella CID, Southern Division Task Force and the K-9 Unit.
—-
In another incident, nine persons playing cards in Sangre Grande were arrested for a similar offence. They were arrested during an anti-crime exercise conducted in Sangre Grande.
The nine persons; Akim Bissoon, Triston Estrada, Nathan Jones, Andrew Williams, Junior Charles, David Devignes, Kevin Bernard, Daniel Baptiste and Isiah Smith, all of North Eastern Settlement, Sangre Grande, were reportedly gathered playing cards on Sycamore Street, Ojoe Road, Sangre Grande, when they were caught by police and detained.
The nine suspects were all granted station bail in the amount of $500 and are due to appear at the Sangre Grande Magistrates' Court on October 2.
The exercise was supervised by Sgt Sankar, Sgt Ramkissoon and Sgt Garcia.
—
And in an unrelated incident, a 28-year-old man was arrested for possession of a firearm and ammunition during an anti-crime exercise conducted in the Santa Cruz district on Friday.
During the exercise, officers found a firearm with markings "BERETTA" and 18 rounds of live ammunition after conducting a search on the suspect from Blackford Street, Santa Cruz.
The exercise was spearheaded by Ag/Sgt Nelson, supervised by Cpl Acres and included PC Sampson, PC Holder, PC Mykoo and PC Ramgulam of the Santa Cruz Police Station.
PC Holder is continuing inquiries.