Cache of Gun, Ammo Found in Tortuga Village
August 3, 2020
0

2 minutes read
POLICE arrest a 32-year-old man after they find a cache of guns and assorted ammunition in Tortuga Village.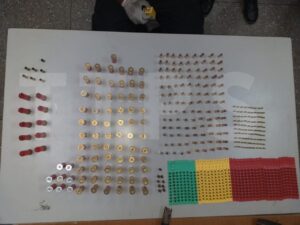 During an anti-crime exercise early Saturday, officers received information and went to the suspect's home.
They executed a search warrant and found:
One Cobra revolver
One Maverick Mossberg pump-action shotgun
One 12 gauge barrel
Two 12 gauge shotguns
One 12 gauge homemade shotgun
One prohibited weapon, namely a nail gun
479 rounds of ammo for a nail gun
140 rounds of ammo
75 12 gauge cartridges
Police also recovered 17 spent casings and cartridges at the house.
---
This is a paid political announcement
Involved in the operation were officers of the Central Division Task Force and Couva Criminal Investigations Department (CID).
It was coordinated by acting Senior Superintendent Curtis Simon and acting Superintendent Wayne Mystar.