By Sue-Ann Wayow and Prior Beharry
THE SPARK of divinity in Anil Bheem is honoured in a celebration of his life on Thursday at the Divali Nagar at Endeavour in Chaguanas where hundreds attended in person while hundreds of thousands viewed on social media.
Artistes of the Indian genre in Trinidad and Tobago filled the outdoor stage of the Nagar with renditions of Bheem's songs and bhajans in honour of the man called The Vocalist.
Organiser of the event, Ken Emrith said 1,000 chairs were put out. They were all filled with people standing all around in tribute to Bheem.
The celebration followed religious rites at his Curepe home where he passed away on Saturday morning of cardiac arrest. He was 48.
Among those paying tributes was Opposition Leader Kamla Persad-Bissessar who called for a National Award for Bheem for his contribution to the culture of Trinidad and Tobago.
His wife Cheryl started her eulogy with lyrics from his popular cover of the Bollywood hit Ishq Chupata. She said that they stood out – "If tomorrow was judgement day/ And I am standing on the frontline/And the Lord asked me what I did with my life/I would say I spent it serving you…"
She said he was the perfect son, father, grandfather and husband as he always took out the groceries from the vehicle and opened the car door for her.
They met at 103FM in 2002 when Cheryl was also a presenter. Bheem's Catch the Rhythms drivetime radio programme was on the airwaves for more than 30 years. He had started in 103FM as a technical operator.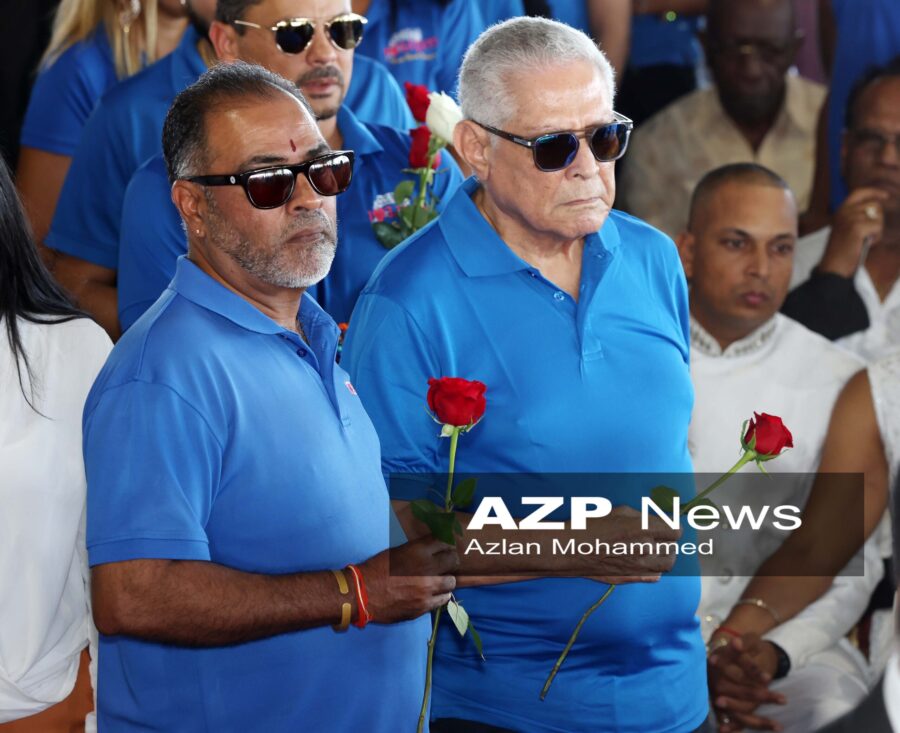 She said penning his eulogy was the most difficult task she had to do. She told of their love story which began in 2002 and solidified with their marriage in 2008.
It was a love story out of this world, she said.
While the couple did not have any children together, Cheryl said, she was fortunate to have shared the years with him "the perfect gentleman and the best husband."
Masters of Ceremony were 103FM presenter Fazeer Rojan and ex-employee Sheldon Ramgoolam. Rojan said that former programme director at the station Hemant Saith said that Bheem also had a mischievous side. He said when Bheem came for his interview at the station he was late and pulled the fire alarm causing everyone to exit the building. And after that episode, during the interview, he said he was not late, but just caught up in the chaos. The rest, Rojan said, was history as Bheem became a popular voice on radio.
Mourners included Government ministers Randall Mitchell, Kazim Hosein and Rohan Sinanan, Persad-Bissessar, United National Congress (UNC) MPs – Dave Tancoo, Rudy Indarsingh, Barry Padarath, Dr Rishad Seecheran, Arnold Ram and Ravi Ratiram – Chaguanas Mayor Faaiq Mohammed, councillors including Shanty Boodram, former FIFA vice president Jack Warner, other singers, musical artistes and his 103.1 FM family who were all dressed in blue.
Bheem's coffin arrived with tassa and at least four music trucks all blasting his popular renditions. He recently did a version of the late Mohammed Rafi's local favourite Suhani Raat Dhal Chuki under the title The Indian Anthem which was performed on stage by many of the artists as the procession left for the banks of the Caroni River where he was cremated under Hindu rites.
---
Click here to see photos of the funeral of the late Anil Bheem
---
Rana Mohip, Neavl Chetelal, Ravi B, Nish B, GI Beharry, Master Saleem and eight-year-old Katelin Sultan were all on stage.
The rivalry of several of these artists who will compete on Carnival Friday at Skinner Park at the Chutney Soca Monarch was forgotten as camaraderie and brotherhood were evident. Southex Chief Executive Officer George P Singh said Bheem will be honoured at the finals. Singh said the Indo-musical industry has lost one of its princes and was rocked by his passing.
The 103 FM Youtube stream of the funeral had 300,000 views by Thursday evening. 
Joey "Posh" Richardson, known popularly as "The Flagman", paid tribute to Bheem's legacy. He told AZP News that while he did not know Bheem personally, he came to honour the icon.
Clad in gold and covered in flowers, Bheem's body lay in a gold and cream casket. 
His daughters Neelam and Pritivi Bheem paid tribute saying that Christmas mornings were very special to them. Bheem's grandchildren Zeyad, Ruhi and Raes were also present.
Bheem was not just a great singer, entertainer and vocalist but was a great husband, father and grandfather, mourned and celebrated because of his humility, Rojan said.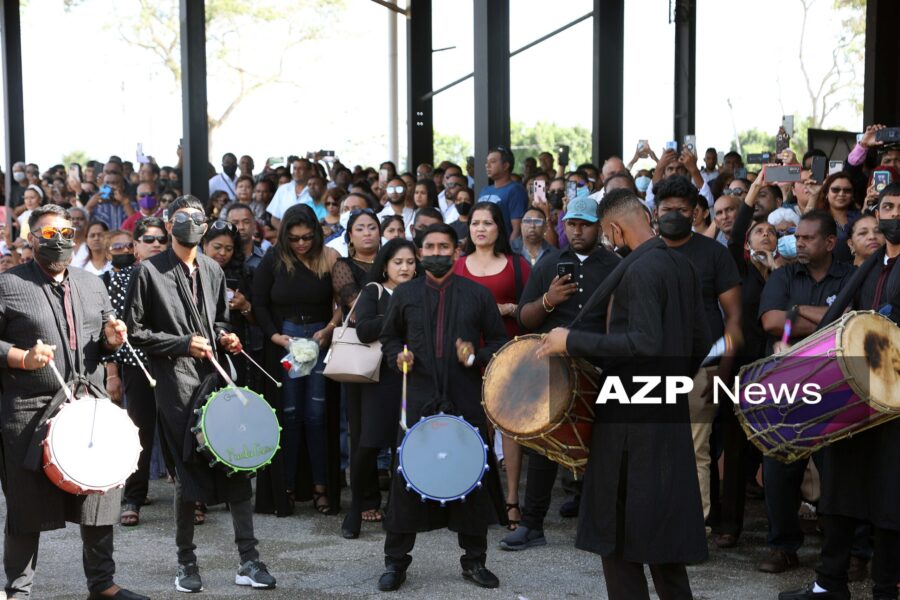 Ramgoolam advised attendees to let someone know they were loved before it was too late.
Nishard Mayroo sang Bole Bole Hanuman, Bheem's bhajan while flowers were placed in the coffin by members of his family and specially invited guests. Cheryl placed the first flower.
Other musical tributes continued during that viewing process.
National Council of Indian Culture (NCIC) representative Surujdeo Mangaroo described Bheem as "a wonderful friend," who graced the same stage at the Divali Nagar site on several occasions.
Drummer Amir Ramjattan, of the BMRZ (Body Mind Rhythm Zone), the band founded by Bheem said Bheem was the band's captain, friend and father and that band members have big shoes to fill in continuing his music.
His producer Zaheer "Big Rich" Khan declared, "The world loves the Bheemer," who remained humble despite his fame.
Saleem Beharry said his performing name was given to him by Bheem who believed in his ability and groomed him into becoming noteworthy artiste.
"I am very proud to call myself a product of Anil Bheem," he said. He said he was initially known as "Stinky" and Bheem had told him he was too good-looking to go by that name, coining his now sobriquet "Master Saleem".
Promoter Rafi Mohammed also spoke of his work and relationship with Bheem saying he was a "gentle giant of a personality."
A second viewing was allowed with a duet by Katelin Sultan and Neval Chatelal leading off with songs. Ravi B also sang.
His neighbour Ashaki Scott said he was known to them as the cool, kind, next-door neighbour and they received free entertainment while Bheem practised with his band.
"Neighbours by chance, friends by choice," they were and pledged continued support for his family.
In her tribute, Persad-Bissessar said, "His legacy will forever be remembered with the countless songs, he gifted us with."
Executive Director of 103FM Jason Corbie also spoke.
---
Click here to see photos of the funeral of the late Anil Bheem
---
The people, he was closest to, his family, ended the spoken tributes.
His first daughter Neelam said apart from being the one with a golden voice, "He was also the one with the golden heart."
Bheem's second daughter Pritivi said her father was also her best friend and boss.
They promised to carry on his legacy. Bheem's mother Prematee and father Krishna were also among the mourners.
The service at the Divali Nagar site ended with a vote of thanks by Emrith.
Many in their tributes, including Cheryl, use the words he ended Catch the Rhytms with every weekday –  "There is a spark of divinity within each and every one of us. Locate that divine spark and all in your life will fall into place will work out just fine, will be just mellow, love and blessings T&T."
The final rites at the Caroni Cremation Site also had hundreds in attendance.
——————————————————————–
Click here to see photos of the funeral of the late Anil Bheem