Minister of National Security the Stuart Young, right, and Ambassador of the United States of America to Trinidad and Tobago Joseph Mondello left at meeting last year
Ambassador Mondello Op-Ed: US Don't See Eye-to-Eye With T&T on Venezuela
January 13, 2021
98

9 minutes read
Bellow is an Op-ed piece done by US Ambassador to the United States Joseph Mondello. The appointee of the Trump administration says farewell to T&T.
Serving as United States Ambassador to Trinidad and Tobago has been the greatest honour of my life.
Apart from its great weather and amazing beauty, T&T has some of the nicest and most sincere people I've ever met.
As I come to the end of my tenure, I think it useful to share my views on the state of relations between our countries.
While our bilateral relations are good, collaborative, and constructive in some areas, there are opportunities to make improvements and undertake newfound commitments in others to strengthen and reaffirm the strategic partnership between our countries.
Our security cooperation is good and effective overall.
Fighting crime
One of the United States' key goals is to assist the Government of T&T security institutions to improve their capacity to counter terrorist threats and reduce transnational and violent crime.  To help accomplish these goals, over the last few years the United States has provided millions of dollars in security assistance to support the T&T's Defence Force, Police Service (TTPS), Prison Service, and courts.
This money has purchased new equipment for the Coast Guard, physical and digital forensic training for the TTPS, new hardware and software for the Financial Intelligence Unit, and K-9 dogs for the police, prison, and customs services, among other security assistance.
Meanwhile, the United States and T&T continue to cooperate on law enforcement matters.  In 2019, the United States Government and the TTPS extradited Eduardo Azocar to the United States to be tried for cocaine distribution, and he was sentenced to 12 years in a US federal prison last year.
In 2020, the United States also shared intelligence with Trinbagonian law enforcement that resulted in the seizure of more than 475 kilogrammes of cocaine from a large maritime transit vessel.
One of the best areas of our bilateral security cooperation is between the US military and the T&T Defence Force.
Training
While US forces provide significant training annually to ensure the Defence Force is best-equipped to respond to the latest threats, our military cooperation may not continue beyond this year without a new Status of Forces Agreement.
This agreement allows US military personnel to come to T&T for short time periods to conduct joint training and exercises and engage in subject matter expert exchanges.
Free Medical Coverage
Health is another strong area of our bilateral relationship.  In September 2019, medical personnel from the US Naval Ship Comfort partnered with the Ministry of Health and medical professionals in the country to provide free medical coverage for over 7,000 patients, 90% of whom were Trinbagonian nationals, including 119 surgeries.
Through the US President's Emergency Program for AIDS Relief, the United States has provided approximately $2.8 million in assistance to T&T over the past two years.  This assistance has helped T&T come close to achieving its UNAIDS 90-90-90 goals.
Covid-19 Assistance
The United States provided $250,000 in Covid-19 assistance to T&T last year, which supported medical professionals and government officials in acquiring personal protective equipment and scientific hardware, and provided quarantine upgrades.  In the coming months, Trinbagonians will benefit from regional distribution of the Covid-19 vaccine developed by US companies under Operation Warp Speed, an $11 billion US initiative devoted to bring an end to this terrible pandemic.
The distribution of the Covid-19 vaccine will allow us to soon return to another area of significant cooperation: our robust people to-people connections.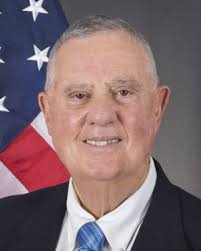 There are over 500,000 Trinbagonians and Trinbagonian-Americans residing in the United States, over 200,000 in my home state of New York alone, and they are cultural ambassadors to US society.
Steel pan, soca, and roti are no strangers in the United States, and celebrities like Winston Duke, leaders like Howard University President Wayne Frederick, and scientists such as Dr Michelle Samuel-Foo, to name just a few, have made significant, lasting contributions in their respective fields.
The familial, educational, and cultural ties that bind our countries are deep and strengthened even more by our ability to visit one another.
Visa waiver
In 2019, I introduced interview waiver processing to make it easier for Trinbagonians to renew their business and tourist visas without a visit to the embassy.
In 2020, we expanded this to crew visas (C-1/D) to accommodate and sustain logistics supply chains throughout the pandemic.
Our consular team has worked hard to improve the applicant experience by reducing appointment wait times, time in the waiting room, and visa processing turnaround times.  We recognize the visa process is the first opportunity to welcome Trinbagonians to the United States.
Trinbagonians have responded positively to the interview waiver process.  We processed 30% more visa applicants in 2019 compared to 2018, and as a result saw a 12 % increase in travel to the United States.
Before Covid-19 shut down our visa operations, applicant numbers were even higher in 2020, and we are anxious to restart full visa operations as pandemic conditions permit.
Increase in US Exports
Despite these successes, some aspects of the bilateral relationship can improve.  On the economic front, the United States is T&T's largest economic partner.
We are 33% of your export market and make up 40% of your imports.
I am proud that during my assignment here, US exports increased 32% in 2019.  You would hardly know of our strong economic ties from the rhetoric of some, however, who instead place their emphasis on "new partners of the future."
One of the ways the United States helps T&T and other Caribbean countries economically is through the Caribbean Basin Initiative (CBI).
Since 2005, T&T is the Caribbean country which has benefitted the most from CBI, which allows certain Trinbagonian exports to enter the United States duty free – nearly $3.7 billion over the period 2014-19.
This mostly, although not exclusively, helps Trinbagonian exports from Point Lisas remain competitive in the U.S. market.
By law, beneficiary countries must maintain eligibility, including transparent procurement procedures, protection for intellectual property rights, and adherence to key World Trade Organization obligations.
Investment
The state of our bilateral investment relationship can be improved.  The United States Government cannot mandate its companies to invest here, unlike others that can direct their state-owned enterprises to invest regardless of whether they make a profit or not.  Instead, US investors are attracted to countries where it is easy to do business and bureaucratic red-tape and corruption are low.
Unfortunately, T&T is currently struggling with these metrics.
In fact, T&T has slipped to 105 out of 190 countries in the World Bank's Doing Business 2020 report on ease of doing business metrics.
In 2014, T&T ranked 79th.  The adoption of more transparent procurement procedures and intellectual property rights protections would go a long way towards improving the investor climate.
My team and I continue to offer at every opportunity our partnership to the Government of T&T and business leaders to improve the investment climate to attract quality investment from abroad, while strengthening and diversifying the Trinbagonian economy.
Venezuela
The Venezuelan political and humanitarian crisis caused by the Nicolas Maduro regime's horrific brutality and disastrous policies is a matter on which we do not see eye-to-eye with the Government of T&T.  This crisis has its roots in the final years of the Hugo Chavez administration, but it became full-blown once Nicolas Maduro and his autocratic regime took power in 2013.
There is no need to go into further details here, but unfortunately, the crisis will continue until full, legitimate, and transparent democracy is restored to Venezuela through free and fair presidential and legislative elections.  This is the only solution to this crisis.
In the meantime, we appreciate the Government of T&T's efforts to assist 16,500 Venezuelans who reside and work legally here.  The United States will continue to play its part to mitigate the effects of the crisis.  We have already provided nearly $11 million to help alleviate the needs of the Venezuelans living here.  While the amount of work we have done with the Government of Trinidad and Tobago represents a small percentage of that assistance, we are open to providing more support.
We have the opportunity now to begin a new chapter in our relationship and become true strategic partners.  I hope the Government of T&T takes advantage of this opportunity with our new administration.  I wish them both luck.