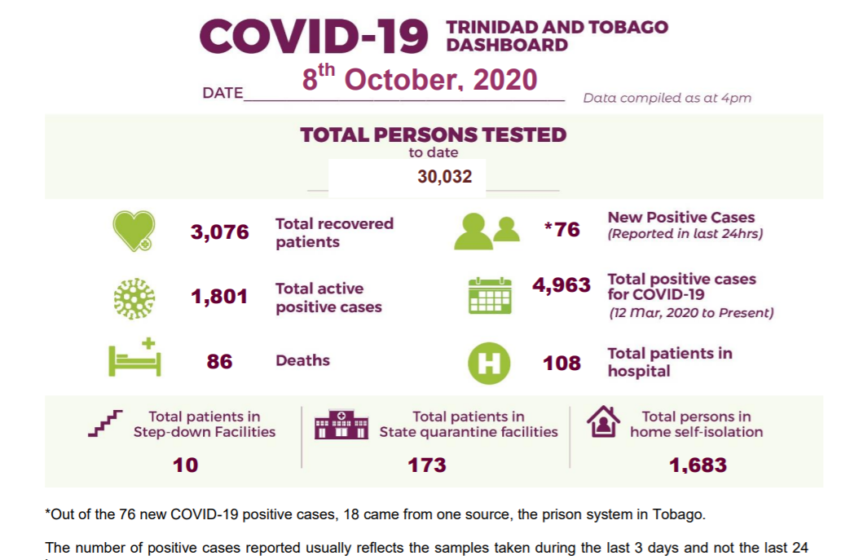 18 Covid Cases in Tobago Prison
October 8, 2020
0

2 minutes read
THERE are 76 new Covid-19 positive cases, 18 of which came from one source, the prison population in Tobago, the Ministry of Health has reported.
This was the first update with the new dashboard.
In its Thursday Covid-19 update, the ministry stated that the number of positive cases usually reflects the samples taken during the last three days and not the last 24 hours.
Number of people tested: 30,032
People having more than one test: 3,106
Positive samples in public and private facilities in TT: 4,963
Active Covid-19 cases: 1,801
Number of Deaths: 86
Total recovered: 3,076
Total patients in hospital: 108
Total persons in State quarantine facilities: 173
Total persons in home self-isolation: 1,693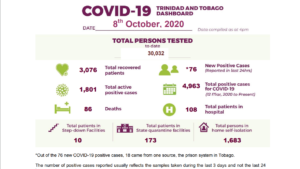 The Ministry of Health updated its release (update #506) to state that 18 of the the new cases reported came from the Tobago prison. In its initial release it stated that 24 cases were from the prison. AZPNews.com also adjusted our story to reflect this change.