Orange Level Alert as Tropical Wave Passes Over TT
THE Trinidad and Tobago Meteorological Service (TTMS) has raised the adverse weather alert to Orange Level.
It stated that the passage of the tropical wave could bring isolated thunderstorms.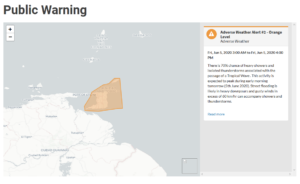 Street flooding, heavy downpours and gusty winds in excess of 60km per hour could accompany showers and thunder storms.