High Attendance for SEA Preparations
THE Ministry of Education has deemed the resumption of classes for Standard Five students as a success.
In a media release on Monday, it stated that strict health and safety guidelines were put in place, after schools closed in March, due to the Covid-19 pandemic.
The ministry stated that classrooms were set up to allow for social distancing while cleaning and sanitising protocols were observed.
It gave some statistics for attendance on the first day of classes on Monday:
100% attendance of Principals in the seven Education districts.
100% attendance of teachers in Caroni, St Patrick, Port -0f-Spain, South Eastern and St George; 99% in North Eastern and Victoria.
93-95% attendance of students in all Education districts.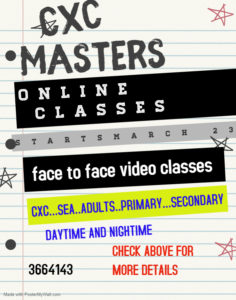 In light of the figures for students' attendance, the ministry urged parents and guardians to send their children to school so they can prepare for the Secondary Entrance Assessment (SEA) examination on August 20.