MP for Port of Spain North/St Ann's West Stuart Young. Photo Parliament of T&T
Young told to Take a Walk, Reboot from Parliament Chamber
October 21, 2020
5

3 minutes read
PEOPLE'S National Movement MP for Port of Spain North/St Ann's West Stuart Young is told to take a walk and reboot himself from the Parliament Chamber on Wednesday.
He was ordered to do so by chairman of the Standing Finance Committee Bridgid Annisette-George after calling the Opposition "racists."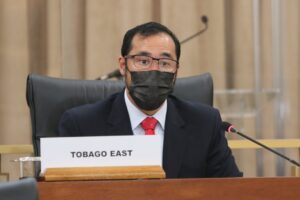 The committee was looking at the Tobago House of Assembly and while United National Congress (UNC) Couva North MP Ravi Ratiram was asking Finance Minister Colm Imbert a question, the UNC Oropouche West MP Davendranath Tancoo said that Young had suggested opposition members were making racist comments.
UNC St Augustine MP Khadijah Ameen interjected that Young has used the word "racist" twice.
Tancoo said Young had on two occasions leaned across and said the Opposition was making racist statements and "we are racists."
Annisette-George then told Young that, if he had indeed said such a word he was being asked to withdraw it.
Young said: "Withdraw, seeing what they are?" There were protests by the Opposition and Young then shouted, "Withdrawn!"
Annisette-George said: "Take this as a word of caution. Take a little walk. Reboot yourself and come back."
Young, who is also minister of national security,  left the chamber.
When opposition members began thumping their desks in support of the chairman, she said, "I don't want any support from anybody."
 See related story below: