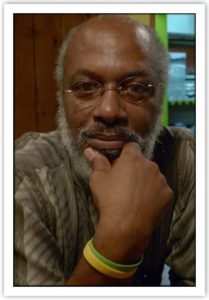 By Prior Beharry
TONY HALL's life was about being Caribbean in the world.
He was honoured on Monday evening along with music producer Daryl Braxton in a four-hour programme on Gayelle The Caribbean hosted by cultural icon Errol Fabien and renowned music producer Robin Foster. It was titled 4 The Boys.
Callers paid tribute to Hall, whose full name is Anthony Michael Hall, and Braxton who worked at the Engine Room Studio of Foster in  First Boissiere  in Maraval.  Hall, 71, died of a heart attack on April 27 in Tobago where he lived and Braxton passed away at the age of 50 on February 14 of carcinoid syndrome – a form of cancer.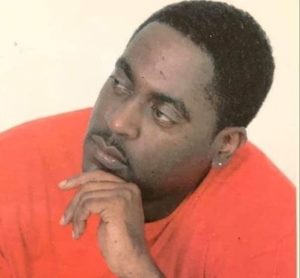 The programme included live in-studio performances by singer Marinda Joseph accompanied on the guitar by Valton Matthew – an officer manager of the now defunct Engine Room that got its name from David Rudder's calypso.
Fabien and Foster sat in front of one of the original Gayelle sets done by artist Jackie Hinkson. Gayelle was a programme promoting the culture of Trinidad and Tobago and the Caribbean done by Banyan Production of which Hall was a part.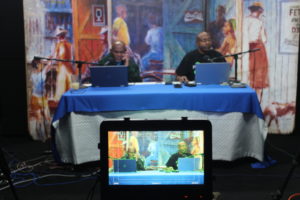 In a video tribute to Hall, Dr Suzanne Burke, a lecturer in Cultural Studies at the St Augustine Campus of the University of the West Indies, said, "When were look at all these activities we get a sense of his (Hall's) underlying philosophy of being Caribbean in the world."
She said Hall was a teacher, mentor and philosopher and made significant contributions to a number of institutions such as the Jouvay Institute, Banyan, the National Drama Association of Trinidad and Tobago (NDATT) and EIDECO.
She said his contribution to play making and making players tell Caribbean stories as significant.
"We also acknowledged Tony's role as a mentor, a teacher and a philosopher in a real sense."
Burke said Hall made significant contributions to several Caribbean cultural institutions such as Jouvay Institute, Banyan, National Drama Association of Trinidad and Tobago (NDATT) and he Entertainment Industry Development Export Company (EIDECO) where she first met Hall and spoke to him for about four hours about the arts.
She said, "His very ways of being and acting and moving through the space epitomises this notion of what he felt was being Caribbean in the world.
"So the very ways in which he expressed himself -his expressions, his languages, drew from metaphors that were created here.
"So he talked about 'playing your mas' which was which was basically understanding yourself (and) being your own self.
"The notion of Jouvert forever – making a ritual of every sunrise and the jouvert of course speaking to the various possibilities that we have in life."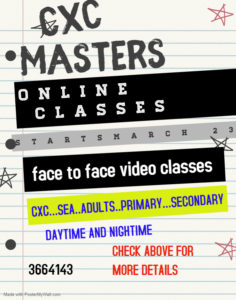 Foster noted that Braxton produced the first hit single for Ken Marlon Charles (KMC) called Bashment to Carnival.
He said Braxton also produced some of the first soca songs for Ian Alvarez better known in the entertainment world as Bunji Garlin.
Braxton also produced a remix of Andre Tanker's Sayamanda.
Calling into the programme was calypso legend Rudder who said the Hall and Braxton were gone but not forgotten.
"He said, "When you have music and arts in your life you can't die 'cause it always have something to teach a youth that growing up."
Also paying tribute to Hall via video were Penelope Spencer and Cecila Salazar.
Spencer played Jean in Hall's iconic play titled Jean and Dinah: Who Have Been Locked Away in a World Famous Calypso Since 1956 Speak Their Minds Publicly.
She said working with Hall was a dream come through for any actor.
Spencer said, "Tony was one of the best directors in the world. He knew how to draw things out of the actor to get the best characterisation of whatever part you have to do.
"Tony knew how to talk to actors while… some directors think they need to cuss and carry on to bring out the part, Tony will stand and talk to you in your ears…"
She also alluded to the part he played in highlighting women.
Spencer said, "Tony was one of the men who took chances with women and characters like Jean and Dinah and Ms (Gene) Miles. While other writers wrote about men and celebrated men, Tony Hall celebrated female and that's what I love about him.
"I loved that he loved family, I love that he loved culture, I loved that he loved our culture and he worked hard at bringing it forth on the stage. Tony was a true, true champion…"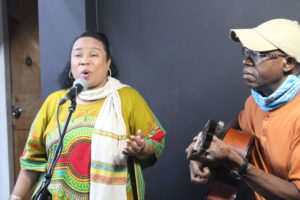 Salazar played Gene Miles, who died in 1972, in another of Hall's production called Miss Miles- The Woman of the World.
She said, "I went to university and I studied acting… and it was only through working with Tony that I got to put everything in practise…"
Salazar said, "So I called him my master, because I believe through Ms Miles and with Tony, I did a master's degree in acting.
"I mean everything from sense memory to emotional recall, to writing the histories of your characters, we went in dept.
"I had seen an article on Gene Miles and I was immediately drawn to it because here was a Trinidadian heroine that looked something like me. Something I was searching for. I approached Tony and he said he had seen her sing in the Rock in San Fernando and he had always wanted to do a piece about her.
"And there began our journey. That was 2005 and we eventual did the play in 2011. Six years of research of deep investigating into her character, into her psyche, into the collective consciousness, and digging deep into people who knew her, commissions of enquiry, so I worked with Tony so closely."
She said, "He became that person that anytime you felt you had a dream if and you wanted something to happen you could call Tony and it was as if he could make it happen.
"You told the story of a legend and we are going to continue to tell your story."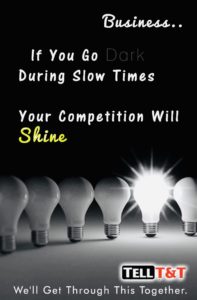 Also shown on the programme was a calypso in tribute to Hall composed by UK Calypso monarch Alexander Loewenthal whose sobriquet is Alexander D Great.
He sang:
We have just lost a great teacher and playwright, one of Trinidad's greatest finds
His beacon blazed out so strong and bright and helped to enrich all our minds…
Telling our story is where his story starts and the theatre was his domain/ devoting his life to carry the arts, I doubt we will see his like again…
He believed in the arts for their own sake not to get a contract or a big break/ pursuing a life of true creativity, inexplicable part of his identity/ using drama, music, dance and all his powers to advance this Caribbean theatre of ours/ that was the thing he believd most of all may you rest in peace Michael Another Hall…