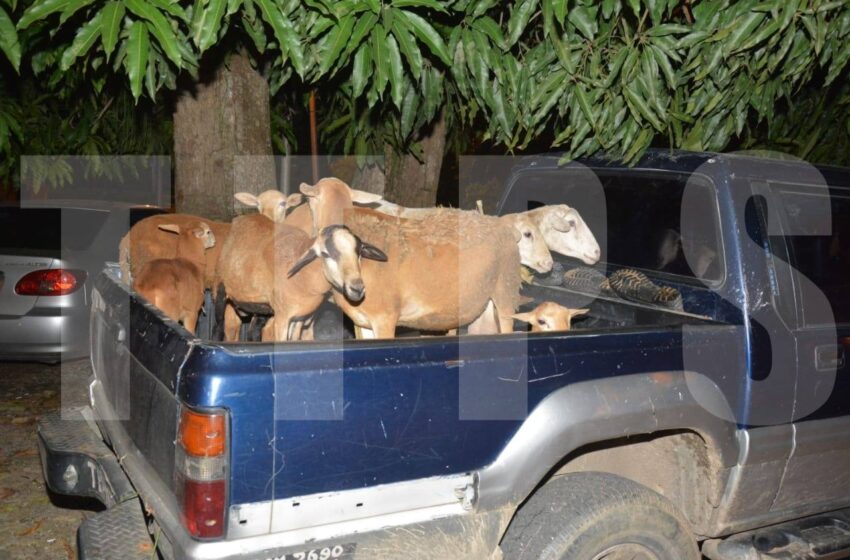 Thursday Crime Round-up: 32 Immigrants Held in Curepe Bar, Stolen Sheep Returned
September 24, 2020
29

7 minutes read
Police Hold 32 Immigrants in Curepe Bar
By Sue-Ann Wayow
MORE than 30 immigrants have been detained at a bar in Curepe.
Police are presently working with the Immigration Division to ascertain the status of 32 immigrants, 18 Venezuelans and 14 Chinese nationals.
They were detained for breaching the Public Health Ordinance Regulations on Thursday.
Police reported that the immigrants were held following  a raid at a sports bar along the Southern Main Road, Curepe, during which officers of the Northern Division Task Force Area West (NDTFAW) and the St Joseph Police Station Criminal Investigations Department (CID) found a quantity of cocaine hidden in a bathroom stall at the bar.
Acting on information, a party of officers went to the location where the 18 Venezuelans and 14 Chinese nationals were found to be in contravention of the Public Health Ordinance Regulations.
They were arrested and taken into police custody pending further investigations.
Police Find Homemade Shotgun
In an unrelated matter, acting on information, the same party of officers, led by Insp Hernandez, Sgt Thomas and Cpl Ramcharan along with the officers of the Canine Unit, proceeded to an open lot at Waterfall Road, Maracas, St Joseph, where one homemade shotgun was found.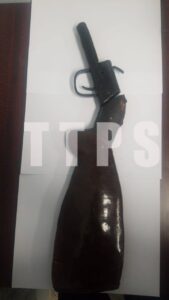 Anyone with information that can lead to the arrest of a suspect in this find is strongly urged to contact the St. Joseph Police Station at 662-4038, or call the police hotlines at 999 and 555.
Petit Valley Man Helping Police with Drug, Ammo Find
A Petit Valley man is presently assisting Western Division Police Officers with their investigations surrounding the discovery of a firearm and a quantity of ammunition and drugs on Thursday morning.
Police reported that at 2 am, officers attached to the Western Division Task Force (WDTF) executed a search warrant at the West Hills Development, Morne Coco Road, Petit Valley home of the 43-year-old suspect.
Upon completion of the search, the officers found and seized, inside a pouch of a computer tower, a Taurus .45 pistol, 45 rounds of ammunition inside a Nike sock and a black plastic bag containing 112 grams of cocaine.
PC Mc Clean has been detailed to continue investigations into these finds.
This operation was coordinated by Senior Supt (Ag) Thompson, Snr Supt (Ag) Pamponette and ASP Operations (Ag) Henry and supervised by ASP Coggins, Sgt Carmona, Cpl (Ag) Edwards and included PCs Mc Clean, Gilkes, Murray, Robinson, Roberts, Rogers, Genty, Peltiet and WPC Primus.
Also a part of the operation was PC Ramoutar and Bailey of the Canine Branch.
Police Return 8 Stolen Sheep
On Wednesday, North-Eastern Division police officers returned eight stolen sheep to their owner.
The sheep were recovered during an intelligence-led exercise in which officers of the Santa Cruz Police Station, acting on information, ventured into a forested area approximately 500 feet off the Moraldo Trace, Sam Boucaud.
Upon arrival, the officers found the livestock.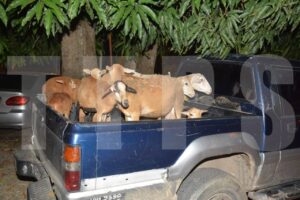 The report of larceny livestock was received by the officers of the Santa Cruz Police Station on Tuesday by the owner, following which an investigation was immediately initiated.
The exercise was coordinated by Insp Beharry, supervised Sgt Hosein and included other officers of the Santa Cruz Police Station.
A 36-year-old man from Cunupia was arrested for possession of a revolver and a quantity of ammunition on Wednesday.
Black Handle Revolver Found
Central Division Police Officers held the man following the execution of six search warrants following which one black handle revolver and three rounds of .38 ammunition were found at his David Toby Road, Cunupia home.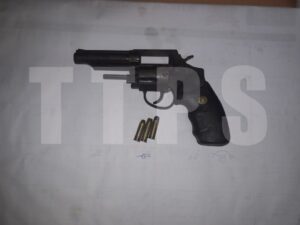 The operation, executed was led by Snr Supt Curtis Simon who was assisted by Supt Myster, ASP Pierre, Sgt Figaro and also included officers of the Central Division Task Force and Canine Branch.
Additionally, police is asking for anyone with information regarding the discovery of a shotgun at Soria Trace, Brazil to contact them immediately at 643-1031.
12-Guage Shotgun
On Wednesday, officers of the Northern Division Area East Operations Unit  went to three-quarter quarter mile off the Talparo Main Road where they discovered a 12-gauge shotgun together with two rounds of 12 gauge ammunition in a makeshift shed.
Tobago Man to be Charged with Marijuana Possession
And in Tobago, a 57-year-old man of Castara, Tobago, is expected to be charged with the possession of marijuana for the purpose of trafficking following a foot pursuit on Wednesday.
Police reported that the man was arrested during an anti-crime exercise in the district during which officers had to chase the suspect.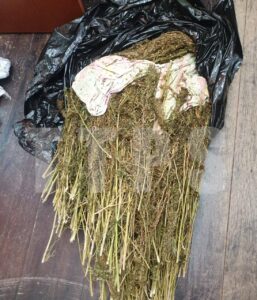 While conducting the exercise, coordinated by ASP Rampersad, spearheaded by W/Sgt Prince, supervised by Cpl Vincent and included officers attached to the Moriah Police Station and the Emergency Response Patrol (ERP), the officers received information and proceeded to Manswell Trace, Castara, where they observed a man sitting in his porch with dried marijuana wrapped in a sheet.
Upon seeing the officers, the suspect attempted to elude police and began sprinting away from the officers with a black bag in his hands.
The officers gave chase and managed to subdue the man a short distance away.
He was subsequently searched along with the bag which revealed a quantity of dried cannabis.
The man was then arrested and the substance seized.
The drug weighed 6.8 kg and has an estimated street value of $275,000.
The man is expected to be charged with possession of marijuana for the purpose of trafficking.
PC Smith is leading investigations into this case.