MP for Port of Spain North/St Ann's West Stuart Young. Photo Parliament of T&T
Since T&T Borders Closed:  8,000 Leave, 5,900 Return      
October 24, 2020

2 minutes read
By Sue-Ann Wayow
FOR the period August 31 to October 22, there have been 2, 573 exemptions granted to Trinidad and Tobago nationals desiring to return home from foreign countries.
This was disclosed by Minister of National Security Stuart Young who said Trinidad and Tobago is continuing to expedite the repatriation process for the thousands on the waiting list to come home.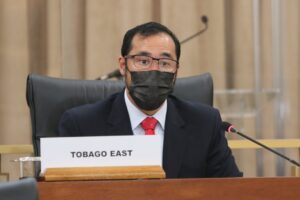 Young was speaking during the media conference hosted by Prime Minister Dr Keith Rowley on Saturday at the Anne Mitchell-Gift Auditorium in the Library facility in Scarborough, Tobago.
He said since March 23, when the borders were officially closed to fight the Covid-19 pandemic, exemptions were granted to 5,905 persons to enter and 8,046 were allowed to leave.
For the period August 31 to Oct 22, 1,815 exemptions were granted to persons leaving the country, the National Security Minister stated.
Young added that major areas of repatriation included the United States-1,395, the United Kingdom- 258 and Canada-177.
He said, "What we have been doing is identifying certain areas like for instance all our nationals in India, all our nationals in Japan, etcetera and granting them permission to come home. We are now at the stage where every week within a ten day period, we have one (flight) from Miami, one from New York. We also have on a weekly basis, these are all Caribbean Airline flights from Barbados coming in."
He added that flights would also be coming in from other areas and the repatriation process is speeding up.
The minister also asked the public to continue to adhere to health and safety protocols even as measures have been relaxed a bit.