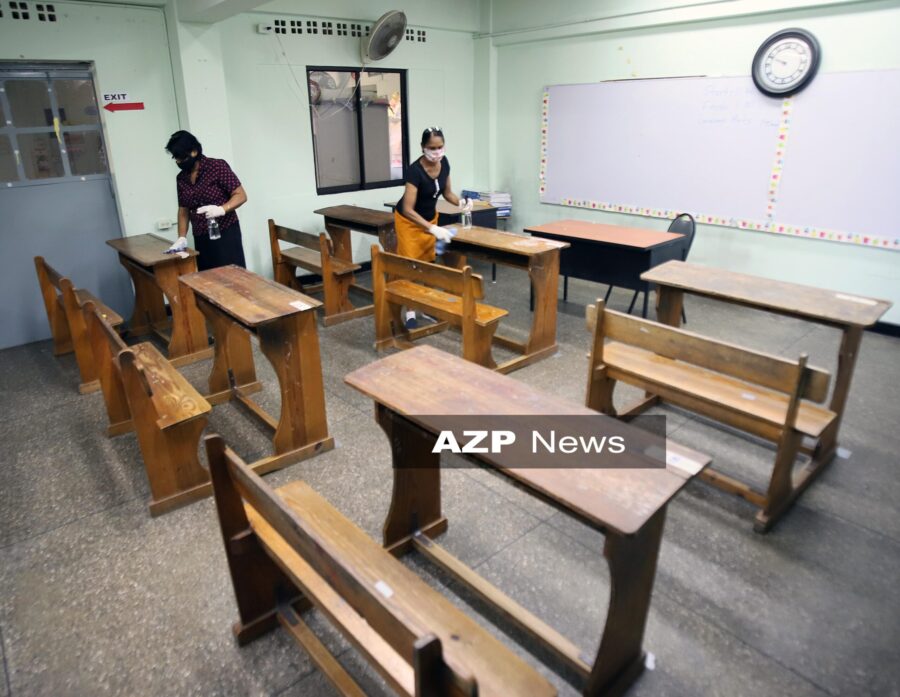 File photo: Custodians of the Felicity Hindu Primary School Nimala Roodal, right, and Oma Mootilal sanitise classrooms before the 2020 SEA examinations. AZPNews/Azlan Mohammed
SEA Pupils Back to School on April 12
'Hybrid' System for Secondary School Students on Feb 8
January 26, 2021
0

5 minutes read
By Sue-Ann Wayow
WITH examination dates being finalised for 2021, secondary and primary schools will re-open physically over the next two school terms.
On April 12, the start of Term Three of the academic year, Standard Five pupils will be allowed to go back to school.
Education Minister Dr Nyan Gadsby-Dolly at a press conference on Tuesday announced that on February 8,  Forms Four to Six pupils will be entering a "hybrid" learning system, utilising online facilities as much as possible but attending in-person classes for School Based Assessments (SBAs), practical and laboratory work.
Asked if she had an idea when school will be re-opened fully, Gadsby-Dolly replied, "At this time, we cannot give a date for the full re-opening of school but what we are offering is how we intend to move towards that."
She said the ministry will enter into an aggressive social media campaign to teach and inform children how they should conduct themselves under Covid-19 protocols and that the school feeding programme will also be back on only for the students who will be attending physical classes.
Pupils will also get the mental support needed through the Ministry's Student Support Services.
Gadsby-Dolly reminded the public of all the guidelines put in place by the Government to combat the virus adding that pupils will have to undergo a medical examination prior to being allowed into their classrooms.
Mask wearing will continue to be enforced for all children over the age of eight and pupils will be allowed to eat at their desks to avoid congregating. Breaks including bathroom visits and lunch should be staggered.
Classrooms and laboratories are to be organised to facilitate 6 feet (head-to-head) physical distances as mandated by the Ministry of Health. This means calculating the number of students that can be accommodated in the existing teaching-learning spaces at the school.
Secondary schools are authorised to operate within normal school hours. Pupils should report to school for face-to-face teaching only when absolutely necessary and face-to-face sessions should be organised to minimise the contact hours and the number of pupils present on the school compound at the same time.
For primary schools, the substitute teacher system has been repurposed to provide additional supervisory support for teachers and  schools are asked to indicate their need for substitute teachers through the usual channel.
There will also be the establishment of a Ministry of Education Health Services Unit which Cabinet has approved.  This unit will comprise 14 nurses headed by a doctor.
Two nurses will be assigned to each educational district (the District Medical Team) with direct responsibility for being the liaison between schools and the relevant units of the Ministry of Health to facilitate and expedite communication between principals, supervisors and the Ministry of Health.
Tobago will also make their arrangements.  The Education District Health Unit will facilitate medical clearance for the entry/re-entry of students to school where necessary.  The unit will also have responsibility, in collaboration with the Health and Safety Unit of the Ministry of Education, for ensuring that arrangements are in place at school for Covid-19 protocols to be enforced.  The District Medical Team will be the first response in the event of an emergency at school.
The Crisis Management Team at each school must also keep abreast of research and best practices as they relate to the reopening of schools and advise the School Based Management Team accordingly.
All schools must also have proper signage displayed advising the public of its Covid-19 protocols and visitors must provide contact information to facilitate contact tracing if necessary  with visitors being kept at a minimum.
Schools must have a designated quarantine area to which students who display flu-like symptoms can be assigned to await pickup by their parents (where applicable).
These students must be identified to the principal by teachers, health and safety officers, security officers or staff. The designated area must be an area or room with adequate ventilation, or any available room that is deemed suitable by the Crisis Management Team.
Morning assemblies should be conducted over the public address (PA) system and attendance taken for morning and evening sessions and a special timetable is set up. And there will be regular cleaning and sanitising, the Ministry of Education indicated in its guidelines.