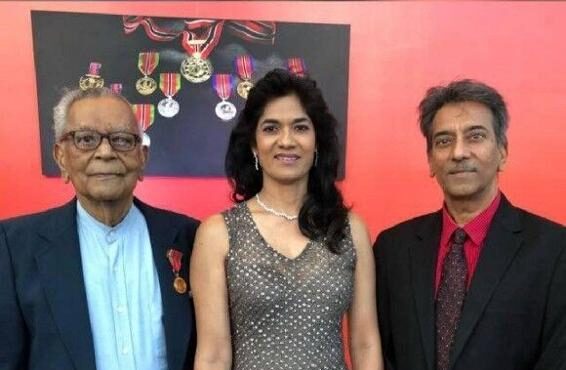 The late Justice Lennox Deyalsingh with his daughter-in-law Dr Sherene Kalloo son Dr Varma Deyalsingh, right
Retired Justice Lennox Deyalsingh Passes Away
By Prior Beharry
Retired Justice Lennox Deyalsingh has died. He was 97.
He passed away on Sunday at Medical Associates in Chaguanas due to complications from Covid-19.
Deyalsingh was known as a no nonsense judge who was tough on criminals, his son Independent Senator Dr Varma Deyalsingh said on Monday.
He leaves to mourn three children – attorney Vashti Stephenson, Nalini and Varma. His wife Mons Roopnarinesingh, of Curepe, died in 2017.
The late judge was the uncle of Minister of Health Terrence Deyalsingh.
Dr Deyalsing said his father worked in the public service before entering Lincoln's Inn in the United Kingdom to pursue law.
According to Dr Deyalsingh, his father had accompany then opposition leader Rudranath Capildeo to Marlborough House in 1962 to negotiate Trinidad and Tobago's Independence from Britain.
He said his father was elevated to the Bench in 1979 and has the distinction of being the only judge to serve under five chief justices including Sir Issac Hyatali, Cecil Kelsick and Clinton Bernard.
Dr Deyalsingh said after his father retired he was brought back to the Bench by chief justice Satnarine Sharma to assist in clearing the backlog of court cases. He said he was the oldest judge to serve on the Bench.
He said his father often gave criminals the maximum sentence and had even spoken out against the government in a case brought by then St Augustine MP John Humphrey about the demolition of squatters' homes.
Dr Deyalsingh said an attempt was made by the government at the time to censor the judge but the Law Association came out in support of his father and stressed the importance of maintaining an independent judiciary.
The late Deyalsingh was appointed by former prime minister Basdeo Panday to head a committee to into the contract of the Piarco International Airport. The report was laid in Parliament and had recommended the termination of the contract. He was also chairman of the commission of enquiry into the Elections and Boundaries Commission in 2002.
He was the reciepient of Chaconia Medal (Gold) in 1990.
There will be a private funeral for the late Deyalsingh on Tuesday.