Restaurant Week Begins in TT
September 19, 2019

4 minutes read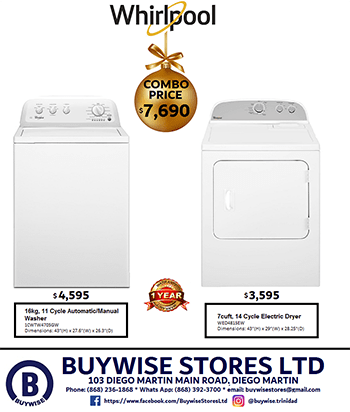 TRINIDAD and Tobago Restaurant Week (TTRW) starts on Friday September 20 and ends on Sunday September 29.
More than 70 restaurants will be participating in the event, now in its seventh year.
It offers diners an opportunity to indulge and enjoy the best of what local restaurants have to offer.
TTRW team has a new and updated app – ttrestaurants which will allow those logged on to view menus and offers of the 70 restaurants across both islands.
Menus could also be viewed on TTRW's website. Potential diners may also view Restaurant Week on Facebook for updates.
The participating restaurants are:
519 Restaurant and Bar
Aioli
All Out Sports Bar and Gourmet Grill
Amore Mio
Angelos Italian Restaurant
Aquarium Restaurant and Lounge
Bacco Restaurant and Pizzeria
Bal-Tar-Zzar Restaurant and Bar
Bistro Di Rustica
Boqueron Seafood and Tapas
Broodje Sandwich Studio and Doggie Deck
Buzz Bar (C3 only)
Café Mariposa
Castro's Restaurant and Sports Bar
Cazabon Wine and Cocktail Bar
Chuck E Cheese
Cristiano's Bistro
Crust2Crumb Dessert Café and Bistro
Freebird Restaurant
Gemstone
Hakka Restaurant
Hayley's Buffet and Bar
Herbs and Spices
Hotel Normandie (Ciao Restaurant)
Island Beer Chill and Grill
J Malone's Irish Pub
Jaxx International Grill
Joseph's Restaurant
KAVA
Kazza Pot and Kettle
Mai-Thai Restaurant and Bar
Mama Mia Pizzeria and Cucina Italiana
More Vino North
More Vino South
Mr Rangos Cookhouse
Ohana Restaurant
Passage to Asia On The Avenue
Paul A Grant Butcher's Steak House
Prime Cut Restaurant and Food Bar
Rizzoni's Restaurante Italiano
Rootsyardd Dub Night Market One Pot
Sails Restaurant
Samurai Japanese Steakhouse and Sushi Bar
Silhouette's Restaurant
Spiked Café
Stages on the Avenue
Taste Vinoteca
Texas de Brazil
TGI Fridays
The Arts Café
The Asian Buffet
The Auditorium and Lounge
The Bungalow Restaurant and Lounge
The Factory
The Metropolitan Restaurant@ Cara Suites Hotel
The Residence
The Rise Restaurant Grill and Bar
The Waterfront Restaurant
Tiki Village Kapok
Touch n Taste Restaurant and Lounge
Trader Jack Island Grill
Woodford Café
Zazou Kitchen