Sunil Dookie
Penal Man Charged for Ex-Wife Murder
October 10, 2020
1

2 minutes read
SUNIL DOOKIE, has been charged with the murder of his ex-wife who was chopped about the body last month.
Police reported that Deputy Director of Public Prosecutions Honore Paul gave the instructions to lay the charge on Friday.
His ex-wife was found dead on September 29, Dookie at Laltoo Branch Road, Penal.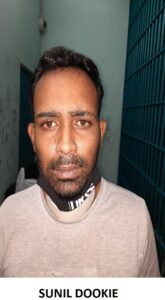 Investigations revealed that Dookie, 36, of Thompson Trace, Siparia made a report to the Siparia Police Station on September 28 concerning domestic problems with the deceased and suicidal feelings.
Police stated that the deceased left her home at approximately 8.45 am the day after and was seen arguing with a person in a black vehicle. Shortly after the vehicle sped off driving west, the deceased was discovered by villagers on the ground suffering from apparent chop wounds and lifeless.
Dookie was apprehended after the vehicle he was driving collided with a metal garbage bin along the Laltoo Branch Road, he was also suffering from a wound to his neck.
He is expected to appear before a Siparia Magistrate on Monday.