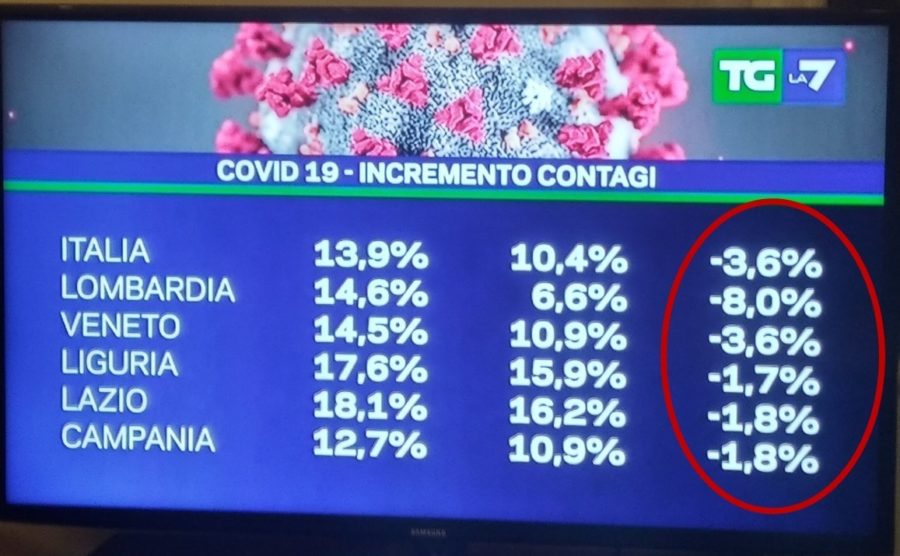 Italians have been waiting for weeks to see the minus figures in the red circle, it means that the rate of infection is slowing
Part 5: Diary of a Covid-19 Lockdown – Finally, Some Good News, But People Still Dying
March 23, 2020
43

8 minutes read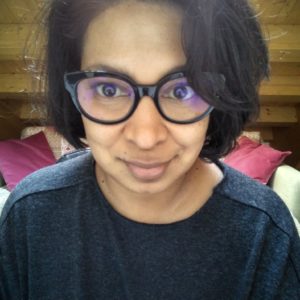 Part 5
As of March 9, 2020, Italy has been put on near-total lockdown to contain the spread of the coronavirus. It is the worst hit country outside of China with more than 50,000 infected. Bonnie Khan – a Trinidadian living in Venice, Italy – is recording her life during the lockdown.
Sunday 22 March developments
Number of infected people in Italy: 59,138 (5,560 more than yesterday)
Number of infected people in the Veneto region: 5,122 (505 more than yesterday)
Two significant developments over the weekend:
The rate of infection slowed today: nationally, by 3.6%, and in Lombardia, the hardest hit region, by 8%. Officials are cautiously optimistic that this is the start of the flattening of the curve. ''We don't want to get caught up in easy enthusiasm or overestimate a trend,'' said

Franco Locatelli

president of the Superior Health Council, Italy

.''But compared to yesterday, there is a slightly decreasing figure. We must not let our guard down.''
Doctors have started testing a Japanese drug said to be effective in combating the coronavirus.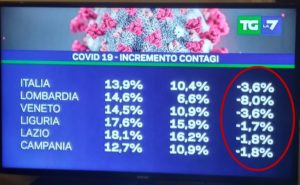 On Saturday, March 21, government announced even more restrictions to keep as many people home as possible:
€5000 fine for gatherings
Suspension of all public offices
Closure of professional services offices
Closure of weekly open air markets (why were these open anyway?)
Closure of all hotels, BnBs. Guests to leave in 72hrs.
Stoppage of construction sites
Closure of all parks and public gardens
Closure of public vending machines
No movement between regions except for essential work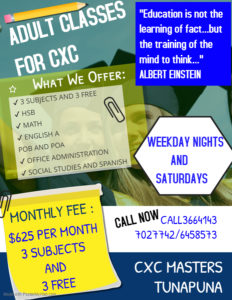 Italians gave a warm welcome to the Cuban doctors who arrived here to help. Cuba's soft power is second to none in a crisis.
There's a theory that the spike in numbers we're seeing now is down to a football match that 40,000 people attended in Bergamo in the north of Italy, in early March.
Day 14
How do you celebrate good news when people are still dying? 5,476 to be exact, as of Sunday.
I guess it's out of respect to them because good news in this situation means that everyone is finally pulling in the same direction to stop this nightmare.
Today's figures were thin rays of light. It feels like spring. It feels like the time to put my dormant plans back into action. I'm motivated!
The figures are small, admittedly, but it could mean we have turned a corner. The cautious expectation now is that, once people continue doing what they're supposed to be doing i.e. staying inside, infection rates will keep on decreasing until it finally evens out, and then start decreasing. Then the lockdown will have succeeded in flattening the curve.
We're holding our breath for tomorrow's figures.
Perspective is everything
I began thinking about perspective this weekend. Mostly on the back of a conversation we had with our friend Ann, a 90-year-old icon of a woman who lives in Central London. Ann lived through WWII – the Blitz, rationing, reconstruction, following government orders in order to survive…those kinds of serious things.
She got me thinking about another Anne – Anne Frank. Remember her? Hiding from the Nazis for her life, in an attic which measured about the size of three parking spaces, with seven other people, having to be silent for long stretches of time during the day?
What we're being asked to do IS NOT THAT.
All the majority of us is being asked to do is to stay inside as much as possible in the convenience of our own homes, with our loved ones, go out only when necessary, avoid crowds, buy the essentials responsibly, not stand so close to others in public and wash our hands. For a few short weeks. Less, if we all complied.
I know this isn't the same for everyone. My heart goes out to those who can't see their older mums and dads because they're being quarantined, to those who care for older or vulnerable relatives in what is a very dangerous time for them, and to those, like my husband, who can't help his parents when they really need it. And I know many people are worried about their jobs, rent, mortgages and bills.
The quicker we buckle down, the quicker this will pass.
Andrà tutto bene, it will all be okay. Till next time.
See parts 1 to 4 and related stories below:
The Good, Bad, Ugly – Part 4 in A Diary of a Covid-19 Lockdown
TT Borders Closed: 35 Elderly Trinis Land in Barbados on Monday