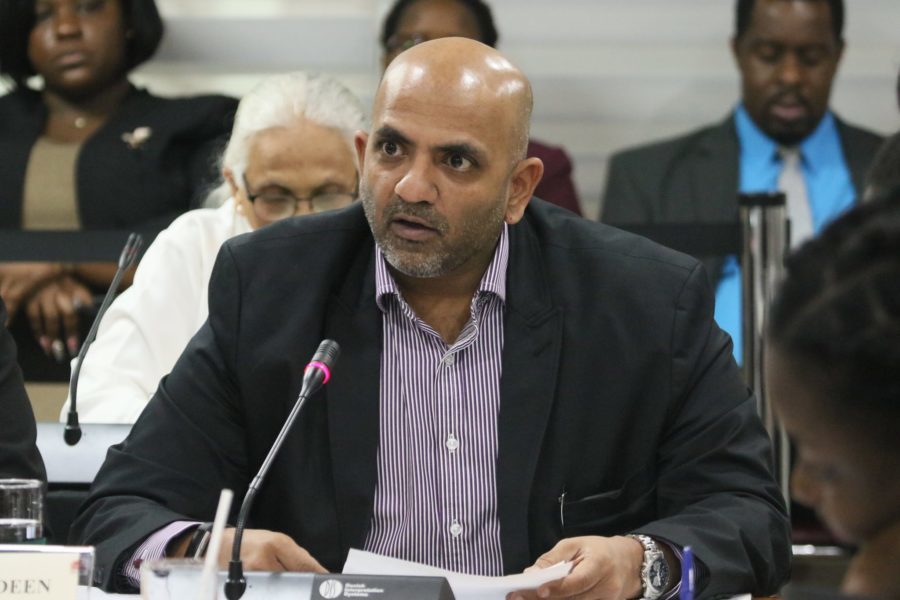 Managing Director of the Omardeen School of Accountacy Ltd Idrees Omardeen. Photo: TT Parliament
Omardeen Accounting School Closes: Blames ACTT
February 28, 2020
150

8 minutes read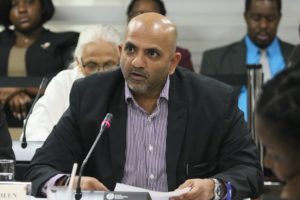 AFTER educating about 40 percent of the accountants in Trinidad and Tobago, the Omardeen School of Accountancy Limited was forced to shut down its three branches because it complied with the statutory approvals required by the Accreditation Council of Trinidad and Tobago (ACTT) when its competitors did not.
This was revealed by managing director of the school Idrees Omardeen on Friday at a Joint Select Committee of Parliament (JSC) looking into local authorities, service commissions and statutory authorities including the Tobago House of Assembly.
He told the committee chaired by Independent Senator Dr Varma Deyalsingh that he wanted to highlight the illegal practices by the ACTT. His school was established in 1977 and closed in 2018.
Omardeen said that Dr Eduardo Ali, who was then a chief evaluator at the Ministry of Science Technology and Tertiary Education (MSTTE) in 2005 "informed all tertiary level schools that full compliance will all statutory approvals for premises was required to registered with Government Assisted for Tuition Expenses programme (GATE) funding."
He said, "This was essential to continue to receive GATE funding. It must be noted that many such schools operated in rental premises which made it difficult to comply as landlords were not always willing to assist."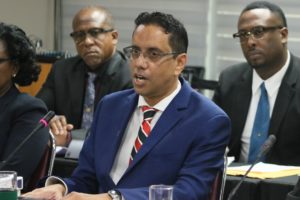 Ali is now the Executive Director of ACTT and was present at the JSC meeting.
Omardeen said his school met all the necessary requirements and in doing so had to purchase two properties. He said the statutory requirements included WASA, TTEC, Town and Country, health and safety approvals.
He said in 2007 and 2008, evidence of their compliance was required when an ACTT team visited their schools and pointed out that some of their approvals would have soon expired.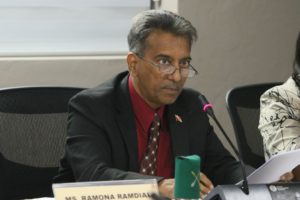 Omardeen said, "This committee would no doubt understand our dismay when in 2010 at another evaluation by ACTT, we were told by Mr Michael Bradshaw that we wasted our money as ACTT no longer required statutory approvals."
He added, "Yet up to even 2010 statutory approvals were inspected and listed in the evaluation report."
Omardeen said he sought information from ACTT but received none. He said it was only via a Freedom of Information Act (FOIA) request that he found out in 2019 that the policy was changed on September 21, 2006 that did not require statutory approvals for accreditation.
He said, "We never received any communication from ACTT about this change. We also learned that we were the only private business school to comply with all the statutory requirements."
Omardeen said he was placed in an unfair competitive advantage since he had to purchase buildings in POS and San Fernando in order to be compliant when his competitors did not meet the requirements.
JSC member MP for Tunapuna Esmond Forde said that the committee received a package from Omardeen that showed his school was operating since 1977 and 40 percent of the accountants of Trinidad and Tobago had passed through its doors.
Forde said Omardeen provided information to the JSC that 46 percent of the campuses (or six of the 13 institutions' campuses) met none of the five critical criteria set out by ACTT.
He said 75 percent (or nine of the 13 institutions) did not even meet two or more of the five requirements set out by ACTT and were still accredited.
In response Ali said the legislation to enact the ACTT was only passed in 2005 and the council only became functional a year later.
He said in 2008, 15 schools including Omardeen's were accredited and required to provide a check list, that did not mention statutory approvals, set by the ACTT.
Ali said statutory approvals were not part of the accreditation process.
He said the then minister had put in place certain requirements including statutory regulations that should have been complied with by the schools.
Ali said he tried to meet with Omardeen to resolve the matter but he had written him a letter making a number of allegations and also some of FOIA requests.
He said he was advised by lawyers to respond to the requests before meeting with Omardeen.
"If attorneys are involved, then our attorneys need to be involve and I could not have meet with them unless that process came to a closure," Ali said.