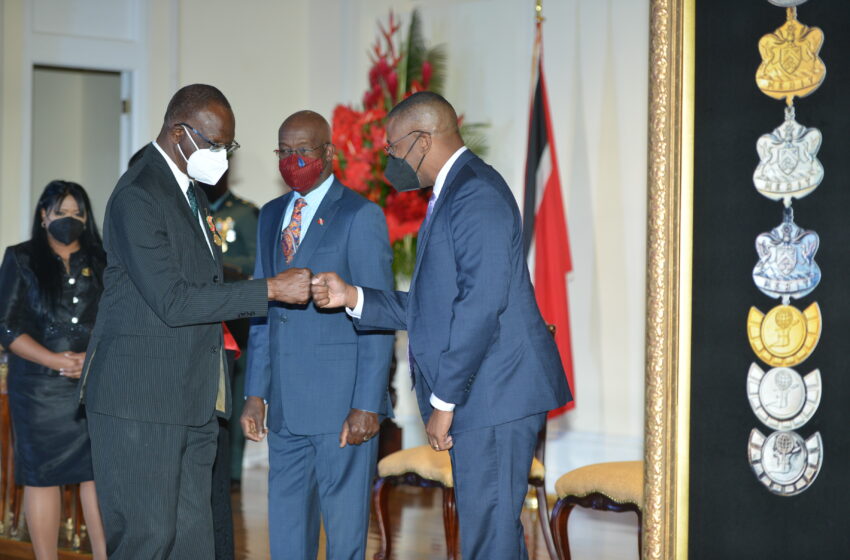 File photo: Retired Justice Rolston Nelson "bounces" Chief Justice Ivor Archie after getting his Chaconia Gold. Looking on is Prime Minister Dr Keith Rowley. Photo: President's House Photography Pool
Nelson to Probe Missing File Case
February 3, 2023

2 minutes read
RETIRED Justice Rolston Nelson has been appointed to investigate the circumstances surrounding the case where the Office of the Attorney General did not put in a defence in a malicious prosecution case by nine former accused.
The State has to pay the former murder accused in the Vindra Naipual-Coolam case just over $2 million each.
At a press conference on Wednesday, Attorney General Reginald Armour said the file had gone missing.
A release from his of office on Thursday stated:
"The Attorney General and Minister of Legal Affairs is pleased to announce the retention of Mr. Justice Rolston Nelson (Retired) SC to advise the State on issues relevant to the missing file and the provenance of the decision delivered by the High Court on January 31, 2023.
"Attorney General Armour S.C. remains consistent with his commitment to ensure the urgent investigation and keeping the public updated on the progress of this matter."