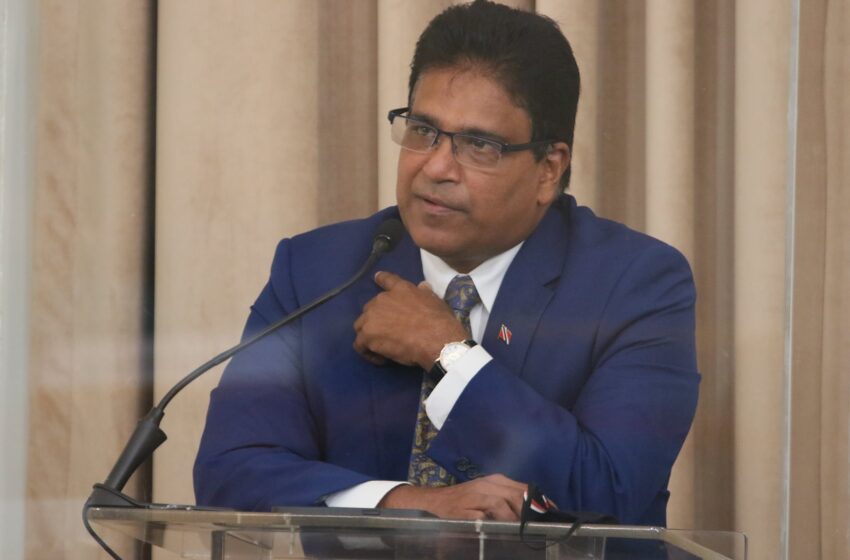 Dr Roodal Moonilal. Photo: T&T Parliament
Moonilal Calls On Rowley to Take Sinopharm Vaccine First
By Prior Beharry
OROPOUCHE MP Dr Roodal Moonilal is calling on Prime Minister Dr Keith Rowley to be the first to take the Sinopharm Covid-19 vaccine.
He made the statement is a release on Sunday after Health Minister Deyalsingh on Saturday said that Trinidad and Tobago was not being used in a guinea pig programme for the Covid-19 Sinopharm Beijing vaccine.
Deyalsingh said the vaccine has undergone a rigorous World Health Organization (WHO) vaccine assessment which included on-site inspections of the production facility before official approval for the Emergency Use Listing Procedure (EUL) on May 7, 2021.
He said the efficacy rate was estimated at 78.1% after queries from Dr Moonilal.
In his release, Dr Moonilal said, "The very people who launched the speediest attack on me for raising concerns, already in the global press, about the new WHO approved Sinopharm vaccine, should ALL take it first to demonstrate, by action, ultimate confidence in its efficacy."
He said, "I noted the quick reaction of Minister Deyalsingh who disturbed his Saturday morning rituals to respond to a statement I made, which in a sense replicated stories carried widely by the international press. My comments were based on articles from CNN, BBC, the Washington Post, Reuters and many other leading news organizsations."
Dr Moonilal said Deyalsingh did not attack him for plagiarizing, but for saying what others said before."
He added, "I would have thought he saw me idling on the Brian Lara promenade and was in shock and tears."
He said the role of a Member of Parliament was to raise critical, uncomfortable and disturbing questions and stressed he was not in a popularity contest.
Dr Moonilal said, "I raised one fundamental issue. It was not the emergency approval of the Sinopharm vaccine, since all vaccines by definition got emergency approval to respond to a pandemic. I raised the same questions raised by French President Macron, separate teams of WHO experts and indeed the medical leadership of China itself."
He said Deyalsingh did not attack the international press.
Dr Moonilal said the UNC opposition was the first to raise the Covid-19 crisis as an "urgent matter of public importance" when high-ranking government leaders said this was not important.
He said, "On December 9, 2020, the UNC was the first to raise the issue of vaccines. We were told that the government entered into a non disclosure agreement to purchase vaccines from China that were not close to being WHO approved yet.
"Rowley promised 461,000 vaccines on December 9, 2020 in the Parliament. The UNC was the first organisation in this country to provide free masks to citizens.
"It was the leader of the Opposition who first wrote to a foreign head of government to request a donation of vaccines, which we duly received weeks after."
He said it was the incompetence and negligence of the Government that kept the southwestern border open for illegal untested migrants to jump off boats all day and night.
The MP said, "This has contributed in significant measure to the spread of the virus and its mutating variants."
He said, "This abject failure to secure our borders deserves an inquiry and court marshal, Rowley and Stuart Young should walk the plank for this calamity.
"Today, with a daily tally running like a test match score the government don't want any citizen to raise the burning questions.
"Yet no one in authority will take the Sinopharm vaccine. I ask why?
"Keith Rowley must take this vaccine in a full media and public event and show confidence by the highest level of leadership. Pull aside again Minster Deyalsingh."
Dr Rowley tested positive for Covid-19 and did not take the AstraZeneca vaccine when the first phase of rollout began on April 6.
Deyalsingh said a gift of 100,000 of the Sinopharm vaccine should arrive in T&T next week.