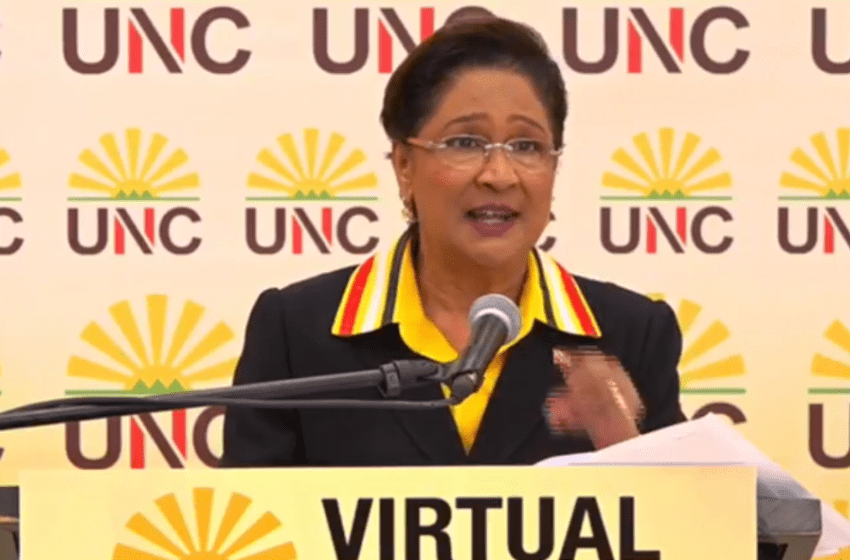 Kamla Persad-Bissessar
Kamla: AG Blatantly Broke Law he Took to Parliament
March 30, 2021
128

4 minutes read
By Sue-Ann Wayow
ATTORNEY General Faris Al-Rawi has blatantly broken the very law he tabled in Parliament and should be fired immediately.
This was the call from Opposition Leader Kamla Persad-Bissessar who said it was unfair to all citizens that the Attorney General should be exempted from the law just because of his portfolio.
"Faris, the attorney general who made the law for everyone cannot respect the very law he made," she said.
Speaking during the United National Congress (UNC) Monday night forum, Persad-Bissessar said it was disappointing that all Prime Minister Dr Keith Rowley could say about Al-Rawi not wearing a mask when he should be was that he was "disappointed."
A video clip was shown to the audience with Al-Rawi speaking about the Covid-19 regulations relating to mask wearing and the charging of children from the age of eight.
---
Delta Force advertisement
---
She said, "We see the main lawmaker by day has become the lawbreaker at night. Faris has been making laws for us citizens to wear masks in our vehicles with big fines if we fail to do so. But he has no difficulty, no issue, no problem attending a game show because according to him it was like 'sitting at a restaurant.'"
Persad-Bissessar also read from an article which reported that  two of Bermuda's leading cabinet ministers resigned over breach of Covid-19 rules last year after attending a party at a plush restaurant where coronavirus (COVID-19) regulations were breached.
National Security Minister Wayne Caines and Tourism and Transport Minister Zane DeSilva left the cabinet after they accepted an "invitation to resign" from Premier David Burt.
She said Al-Rawi needed an "invitation to resign."
Addressing Dr Rowley directly she said, "We are not just disappointed in you, you are a total failure, total incompetent and you should fire Faris. You cannot have the key lawmaker in your government breaking the law.  And nothing happens.  What is the example set for the rest of the country? Whilst we are in the fight for our lives, for our country, we have an AG flouting the law."
See related stories below: