Chief Medical Officer Dr Roshan Parasram
Health Ministry Hosts Stakeholder Meeting on Covid-19
February 13, 2020
26

4 minutes read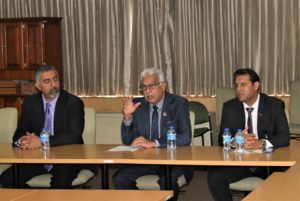 PORT-OF-SPAIN – The Ministry of Health hosts a meeting with stakeholders to address the local response to the Novel Coronavirus, now called Covid-19.
Minister of Health Terrence Deyalsingh was present at the meeting which formed part of the Ministry's continued efforts to work collaboratively with partner entities to ensure that the Trinidad and Tobago population is protected from the global spread of COVID-19, a release from the Ministry of Health stated. The meeting was held at the ministry's head office at Park Street in Port-of-Spain.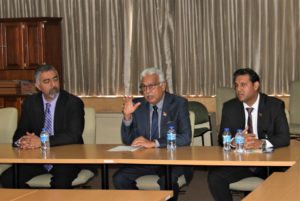 The release stated, "Topics under discussion included the current status of COVID-19 from an international and regional perspective, the confirmation of the roles of key entities and clarification of travel restrictions into the country.
"During this meeting participants also had the opportunity to address challenges surrounding this new public health issue."
The meeting on Wednesday was chaired by Chief Medical Officer Dr Roshan Parasram and included representatives from the Ministries of Works and Transport, Foreign and CARICOM Affairs, Tourism, National Security and Caribbean Public Health Agency (CARPHA).
Representatives from the Maritime Services Division, Airports Authority of Trinidad and Tobago, Trinidad and Tobago Civil Aviation Authority, Trinidad and Tobago Defence Force, Immigration Division, Customs and Excise Division, Port Authority of Trinidad and Tobago, Tourism Trinidad Limited, the Shipping Association of Trinidad and Tobago and the International Air Transport Association came together to discuss matters of national interest with public health experts, the release stated.
It stated that Permanent Secretary in the Ministry of Health Asif Ali and acting Deputy Permanent Secretary of the Ministry of Foreign and CARICOM Affairs Tedwin Herbert were also in attendance.