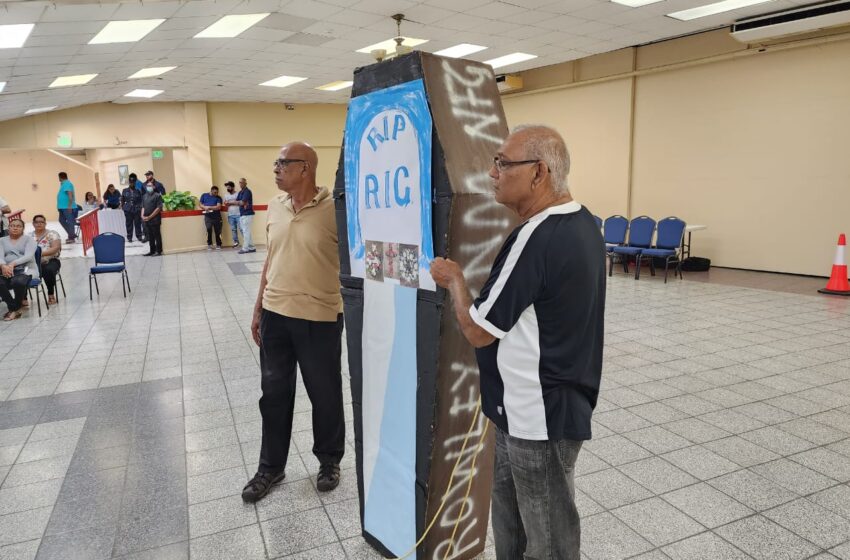 Two men at the RIC consultation with their symbol of protest at Centre Pointe Mall, Chaguanas, on Wednesday
Gonzales Calls on Kamla to Rein in Her MPs
March 17, 2023

4 minutes read
By Sue-Ann Wayow
OPPOSITION Members of Parliament have been attending the Regulated Industries Commission public consultations on the proposed increased electricity rate with the sole purpose to disrupt the proceedings and in so doing, score cheap political points.
So said Minister of Public Utilities Marvin Gonzales who called on Opposition Leader Kamla Persad-Bissessar to temper her MPs.
He made the statement on Thursday following the premature ending of the consultation that was held at Centre Pointe Mall, Chaguanas.
In a press release, Gonzales stated, "I'm now calling upon the Opposition Leader, the Honourable Kamla Persad-Bissessar, MP, without whose knowledge and approval this behaviour could not occur, to rein in her MPs so that the RIC could legitimately conduct their work without fear of intimidation and threats that have visited upon them at every public consultation. To do less would be to condone the uncouth behaviour of her MPs and frustrate the efficient functioning of the Commission."
Gonzales also stated that neither Prime Minister Dr Rowley nor himself had given any directive to the Commissioners of the RIC either to increase electricity rates or to do so by a specific amount.
He thanked the RIC for the work it was doing, adding that it should be allowed to carry out its duties in a free, fair and safe manner.
Gonzales acknowledged that citizens had a right to express their views on the proposed increases but missed out on an opportunity to have their voices heard on this issue due to the MPs intervention.
The Opposition MPs in a statement after the consultation said they attended the consultations to make representations for their constituents and that citizens have reached "a boiling point."