Residents sign petition. Photo: Azlan Mohammed
Felicity Residents Stage Anti-Crime Walk to Highlight Concerns
November 2, 2020

3 minutes read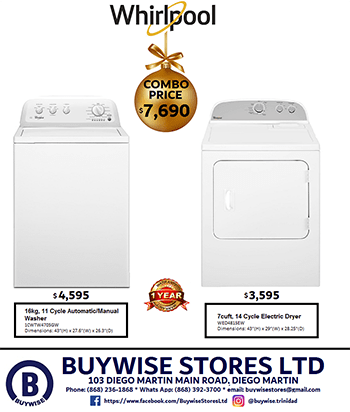 MORE than a hundred residents turned out at the Pierre Road recreation ground in Charlieville on Sunday to take part in an an anti-crime walk and motorcade.
It was to highlight the recent spate of break-ins in Felicity and environs.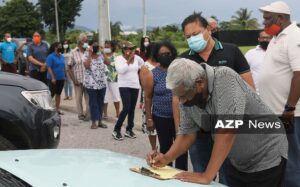 Residents were asked to sign a petition supporting the initiative organised by Imam Rasheed Karim who was joined by MP for Chaguanas West Dinesh Rambally and Mayor of Chaguanas Faaiq Mohammed.
The motorcade and walkabout started at the Pierre Road Recreation Ground, along Cacandee Road to Boundary Road  along Nolan Street, up Balkissoon Street unto Cacandee Road and ending at Azim Avenue.
Karim said that the level of criminality in the area was unprecedented as more than 20 home invasions have taken place in the last month.
Rambally said he has alerted senior police officials to the concerns of the community.
The imam said that the MP will take the petition calling for a police post, regular patrols and security cameras to the Parliament.
He chastised Commissioner of Police Gary Griffith for wasting valuable police time on a pointless inquiry into DSS while an entire community was under siege by bandits.
Karim said the group will continue to highlight the wave of criminal activity while mobilising the community to measures they could take to protect their  families and property.
He was hoping to have 20,000 signatures on the petition by the end of the week.
He said criminals were running rampant in Felicity, Pierre Road, Charlieville, Peter's Field and St Thomas
Village.