Felicity Hindu School Teacher Happy with SEA Results
October 8, 2020

3 minutes read
By Azlan Mohammed
FELICITY Hindu school is pleased with its Secondary Entrance Assessment (SEA) results.
Speaking at the school on Thursday morning SEA teacher Dyanand Jagroop said the results were the best when compared to the past four years.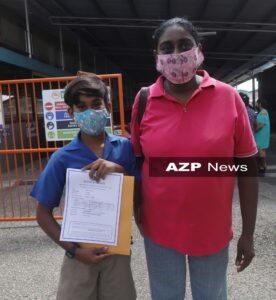 He said out of the 73 students that wrote the SEA exams, about half secured their first choice.
Jagroop said the places in top schools in the area included ten to Lakshmi Girls' Hindu College, ten to Vishnu Boys' College, eight to Saraswati Girls' Hindu College, eight to Presentation College in Chaguanas and eight to Couva East Secondary School.
Jayvan Basraj, who passed for his first choice of Presentation College, was the best performing student in the school.
See vidoes by AZPNews.com Chief Photographer Azlan Mohammed below: