Fake news about the MTM Shanghai
Fake News, No Dead Crewmen at Pt Lisas
January 31, 2020
19

2 minutes read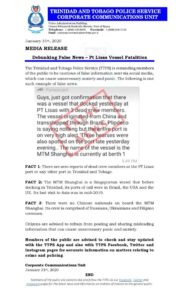 A story circulating on social media that there were three dead crew members at the Port of Pt Lisas on a vessel that originated from China is fake news.
The Trinidad and Tobago Police Service (TTPS) said there were no reports of dead crew members at Pt Lisas or any port in Trinidad and Tobago.
In a release on Friday, it stated that the MTM Shanghai is a Singaporean vessel that docked in ports at Brazil, the US, UK before coming to Trinidad.
It noted that it last visit to Asia was in mid-2019.
The TTPS also stated that the crew comprised nationals of Russia, Ukraine and Philippines. It stated there were no Chinese nationals on board.