Covid-19 injection. Azlan Mohammed/AZP News
Dr Gopeesingh: Government Not Properly Managing Covid Vaccine Process
February 22, 2021
84

3 minutes read
THE "mixed messaging" of the Government on the coronavirus pandemic has given the impression that it cannot properly manage the Covid-19 vaccination process.
This according to a release former MP and government minister Dr Tim Gopeesingh in a release on Sunday.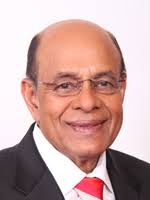 He said, "This widespread mixed messaging and outright withholding of critical information has effectively given the population the convincing impression that the Rowley Government simply does not, and cannot, properly manage the crucial Covid-19 vaccination process for T&T."
Dr Gopeesingh said, "The past week's debacle over the Health Minister's ignorance over the Barbados Government's very benevolent gift of 2000 Covid-19 vaccines to Trinidad and Tobago points to the extremely worrying reality of the Government's lack of a comprehensive national Covid-19 vaccination distribution programme."
He said while 80 countries, including Caricom neighbours, have begun Covid-19 vaccination, the T&T Government has failed to properly inform the population of  "a clear, defined and believable national Covid-19 vaccination plan."
Dr Gopeesingh accused the Government of not having a definite date as to when T&T will actually be receiving the Covid-19 vaccines that taxpayers have paid for.
He said, "Also, Prime Minister Rowley had previously said T&T would be receiving the vaccines for approximately 40 % of our population; yet the Health Minister gave differing figures of 100,000 and then 20,000 vaccines.
"The Government has also waffled over whether these would be the AstraZeneca, Pfizer or Moderna vaccines, and have not detailed exactly which countries they have asked for help; for example, PM Rowley mentioned the African Council while the Foreign Affairs Minister spoke of India.
"The Health Minister has also said that they using the CDAP listing (of citizens who use the public healthcare system) to determine who will be getting the vaccine in the first phase of distribution.
"He failed to mention, however, if there are similar plans for the private healthcare sector, which is utilised by thousands of citizens who also suffer from co-morbidities and other serious health problems. He has also failed to give details as to the allocated sites for the vaccine distribution."