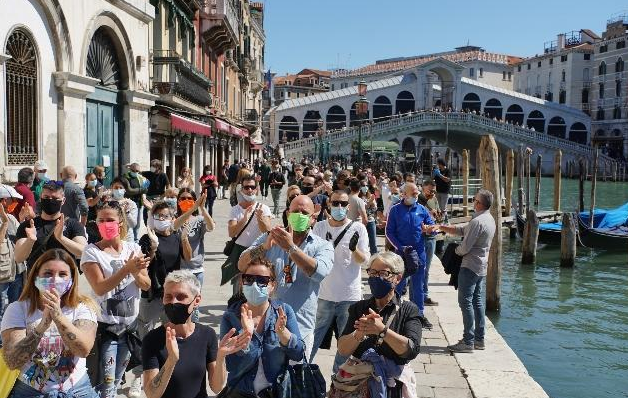 Hundreds gathered at Rialto Bridge in Venice to demand an earlier reopening on the first day Italy began Phase Two, May 4, 2020. Photo: www.bresciaoggi.it
Diary of a Covid-19 Lockdown: First Steps to Freedom?
May 10, 2020

9 minutes read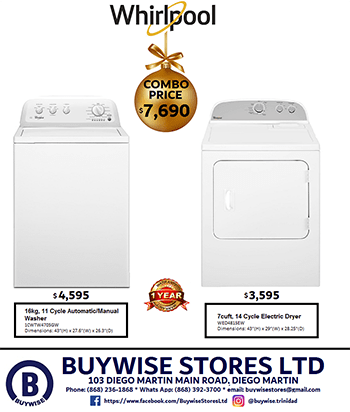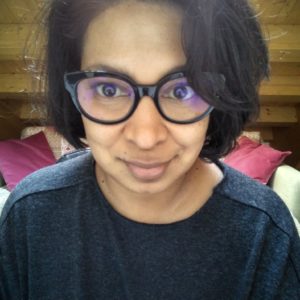 Part 11
On March 9, 2020, Italy was put on near-total lockdown to contain the spread of the coronavirus. On May 4, 2020, after eight weeks of lockdown, Italy entered Phase 2 – a gradual loosening of restrictions. Bonnie Khan – a Trinidadian living in Venice, Italy – is recording her life during the lockdown.
Saturday May 9 developments
Total number of people infected: 218,268
Fatalities: 30,395
Recovered: 103,031
The infection rate has dropped to 0.2% – .07% across Italy.
Phase Two – the slow and gradual reopening of Italy – began on Monday May 4.
Each of the 20 regions across Italy will follow the Government decree for gradual reopening but have their own additional rules within their regions.
International travel is still closed, though two airports – in Rome and Pisa – have reopened. No news on which airlines will be operating.
The Governor of Veneto, Luca Zaia, wants to reopen the region on May 18 – including bars, restaurants and regular shops – all with the necessary safety measures. His logic is that they tested 110,000 medical personnel in the Veneto region and found that only 1.3% were infected. He believes that social distancing and masks will contain the spread.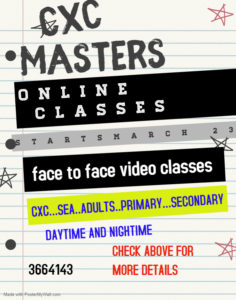 Phase Two: Week One
How does Phase Two feel? Well, on day six of Phase Two, it felt good. It was a long, deep breath of fresh air and calm. I went out in my mandatory mask, sat by the Grand Canal, read a book and watched Venetians going about their lives. It was the first real feeling of calm I've experienced in the past eight weeks.
The first day didn't go so well though.
We went for a walk – Diego, Arrigo and I – and saw a couple of my son's classmates on the way. It was a strange reunion with everyone waving and talking at a distance. So far so good. Then I went to the pharmacy and the woman behind me was infuriatingly refusing to keep her distance. Personal space in this country pre-Covid did not exist, I get that…but come on, it is the law now! The final straw came later that evening, when we saw the on the news that about 500 people had gathered at Rialto in protest.
If there's a spike two weeks down the line and we go back into lockdown…I blame them.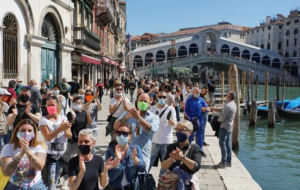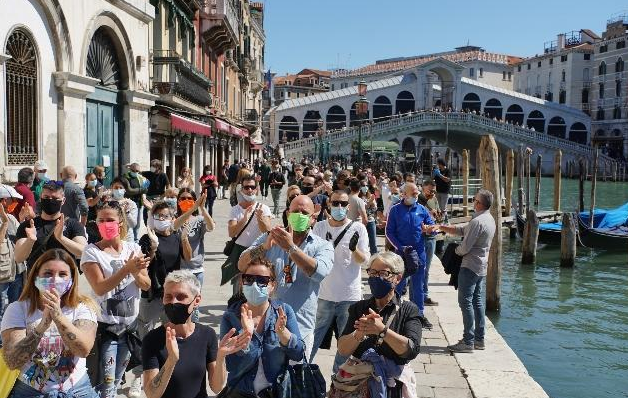 This week saw a small change in routine: we are beginning to form our 'bubble' – a small group of friends and family that we will see regularly, though not get too close to. The criteria for the 'bubble' are basically families that mirror what we're doing: only one person going out for the essentials, and everyone else staying at home and not socialising with others. It's the only way we can limit exposure without staying in full lockdown mode.
Arrigo has started seeing one friend in the afternoons. We know the parents and they've both been tested (negative) as Red Cross volunteers. He and his friend keep their masks on even as they play, which is at least one less thing to worry about.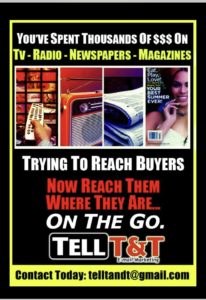 Mostly, though, it feels relaxed, almost as if we can start planning ahead. Except, I keep thinking, too much is dependent on other people's actions.
Today, for instance, our neighbour brought his friend into our shared garden. It's not important that his friend was shirtless and, judging from his exercises and toned torso, a gymnast. No. The only important thing was that he was from 'outside' our little community of neighbours! Then, in Milan, police had to break up a gathering at a cocktail bar where zero social distancing was being practised by non-mask wearing people.
These seemingly small but increasingly frequent interactions could get Italy back into trouble. I'm really hoping they don't.
All in all, for me, Phase One of lockdown had its positive sides: I'm cooking better, fresher food; I've developed and launched a new service; became an Associate of two consultancies; and we have reduced household waste and spending. That's all staying after Covid.
For now, though, it is a waiting game to see what the next two weeks will bring. Hopefully, more freedom.
Andrà tutto bene, it will all be okay.
See parts 1 to 10 below:
Part 10 Diary of a Covid-19 Lockdown: Finally Outside, but Panic Attack