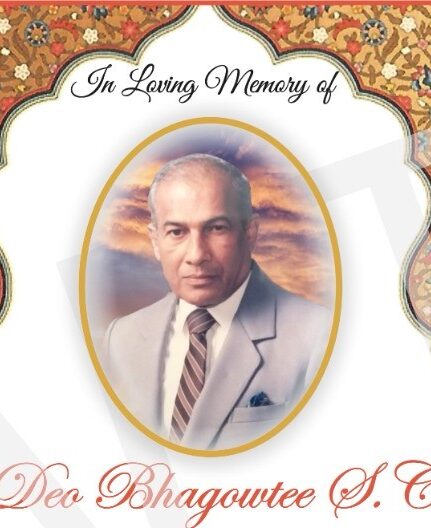 Deo Bhagowtee
Deo Bhagowtee – Philosopher, Epitome of a Public Servant
June 26, 2022

7 minutes read
By Sue-Ann Wayow
DEO BHAGOWTEE, SC, who passed away last week was a philosopher who was passionate about his work and an epitome of a public servant.
These were the sentiments expressed by those who knew him well at his funeral service which was held last Monday at his home at Point Pleasant Park, Cunupia.
Bhagowtee was the former chairman of the Law Review Commission and also the father-in-law of attorney and politician Prakash Ramadhar. In 2013, he received the Public Service Medal of Merit Gold.
He passed away on June 18, 2022 at age 91.
Government Minister Camille Robinson-Regis who attended the service was asked to say a few words by Ramadhar.
Ramadhar said while his father-in-law had many opportunities to go abroad, he chose to remain in Trinidad and render service to his fellow citizens and nation.
He said, "He served the public of Trinidad and Tobago. He served under many ministers and he liked all of them."
Putting his statements into context, Ramadhar said currently everything in the country seemed to be an argument and quarrel, in politics and on a personal level.
He said there was one particular minister who Bhagowtee considered special and a friend. That person was Robinson-Regis.
"If Mr Bhagowtee considered you so dearly, that says a lot about who you are," he told her.
Robinson-Regis had worked together with Bhagowtee, as a former minister in the Ministry of Legal Affairs.
She said, "Mr Bhagowtee was extremely special to me. As a fairly new minister in the Ministry of Legal Affairs, he was one of the persons who I became very close to… He amazed me every time we had to interact."

She added that he taught her humility and she always learnt something new from him with every conversation.
As minister, Robinson-Regis said she honoured his expertise, his work, commitment and diligence.
She also extended condolences on behalf of Prime Minister Dr Keith Rowley who is currently in the US undergoing medical check-ups.
Ramadhar said he had to be the luckiest man alive to be married to Bhagowtee's only child, Jayanti Bhagowtee-Ramadhar.
He said while she was physically beautiful, she possessed qualities of her father which he had always been proud of and she will continue to make him proud and his daughter Urvi was also following in his footsteps.
Ramadhar said, "What he has taught us is that where you are is not where you belong. Where you belong is where you should go. And you choose the direction. You improve yourself by meditation, by prayer by knowledge by doing good by being good, loving."
Those who spoke also mentioned Bhagowtee's intelligence, love and kindness for others and described him as one of the best neighbours anyone could wish for.
The final rites were held at Dass Funeral Home and Crematorium.