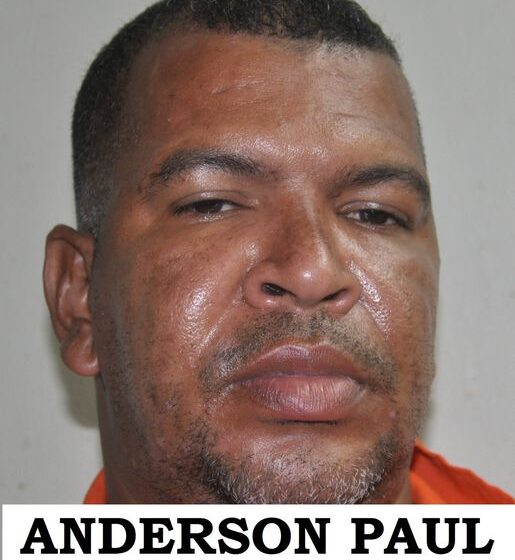 Crime Round up: Seaman in Court for Gun, Ammo
September 18, 2020
25

5 minutes read
Electrician charged with wounding
By Sue-Ann Wayow
A 25-YEAR-OLD electrician has been charged with wounding with intent.
Leeshawn Ahyew, of Penal Rock Road, Penal was expected to appear before a Siparia Magistrate on Friday.
Police reported that on September 2, officers received a report of wounding and Sgt Haynes, WPC Sonnylal, and PC Heralal visited the San Fernando General Hospital where they met and interviewed a 37-year-old labourer, of Spencer Avenue, Quarry Road, Morne Diablo.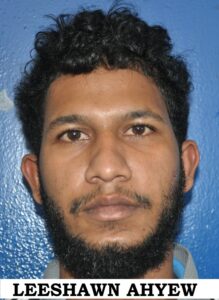 The labourer reported that around 7.30 pm on September 1, he was standing at the junction of Spencer Avenue when he was approached by Ahyew.
Ahyew, who was reportedly armed with two cutlasses one in each hand, began to chop the labourer about his body.
A struggle ensued and the victim bit Ahyew on his cheek and pushed him away and escaped.
The victim sought medical attention at the hospital where the officers observed the injuries to his head, neck and right hand and took his statement. PC Heeralal and officers from the Penal CID continued enquiries.
On Wednesday, PC Heeralal arrested and charged Ahyew, for the offence of wounding with intent to do grievous bodily harm.
Seaman in court for firearm possession
Also on Friday, a seaman appeared virtually in the Siparia First Magistrate's Court, charged with the offence of possession of a firearm and ammunition.
He was granted $250,000 bail.
Anderson Paul, 43, of Post Man Drive, Enterprise, Chaguanas, appeared before Magistrate Aden Stroude and pleaded not guilty to the offence.
He was granted $250,000 with a surety. The matter was adjourned to October 7.
Police reported that around 5.05 am on Wednesday, Cpl George, PC Sylverton, and a party of officers of the South Western Division Task Force, were on mobile patrol in the Oropouche district.
Upon reaching the vicinity of the Oropouche roundabout they had cause to stop and search Paul.
The officers  allegedly found in his bag one Beretta pistol and 15 rounds nine millimetre ammunition. As a result, he was arrested and charged by PC Sylverton for the offence.
PC Figaro is continuing investigations.
La Horquetta in court for gun possession
In La Horquetta, a 26-year-old man was arrested for possession of a firearm and ammunition by officers of the La Horquetta Criminal Investigations Department (CID) and the Area East Operational Unit, during an anti-crime exercise conducted on Thursday.
The exercise was spearheaded by Ag Sgt Porter and supervised by Ag Cpl Durity and conducted between the hours of 10 pm on Thursday and 1.30 am on Friday.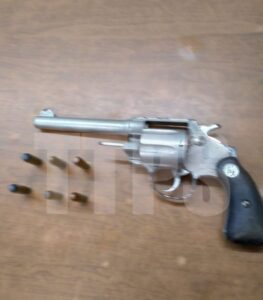 During the exercise, officers conducted a search at a house at Winston Mulligan Drive, La Horquetta, where they found a silver and brown .38 revolver and six rounds of .38 ammunition under a bed and the suspect arrested.
In a separate incident, an 18-year-old from Belmont was arrested in relation to robberies enquiries.
WPC Galteau is continuing investigations.
Arouca man arrested for pistol
And in Arouca, a suspect was arrested and a pistol and a quantity of ammunition seized, by officers of the Northern Division, during an anti-crime exercise, conducted in the Arouca district on Thursday.
Officers conducted the exercise around 2 p.m. during which they executed a search warrant at a house located at the corner of Davis and Jitman Drive, Five Rivers, Arouca.
Police reported that the search resulted in one Glock pistol loaded with ten rounds of ammunition along with 16 rounds of nine millimetre ammunition being discovered at the address.
One person who was in the house at the time of the exercise was arrested in connection with the find.
The exercise was spearheaded by acting Snr Supt Aroon Ramkelawan, supervised by Insp Pitt and included officers of the Northern Division Task Force (NDTF), Area Central, NDTF-Area East, Area East Operations and Task Force Intelligence.