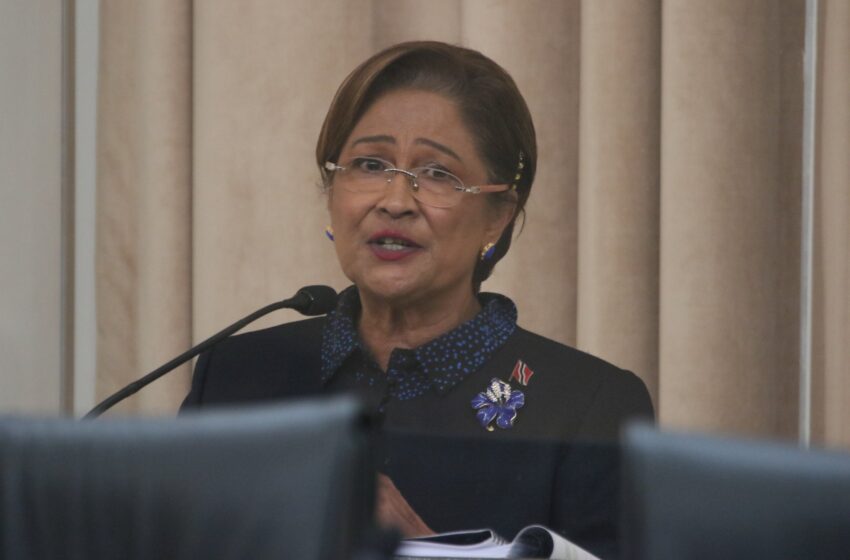 Opposition Leader Kamla Persad-Bissessar. Photo: T&T Parliament
AG's 'Bizarre' Press Conference Raises Questions – Kamla
February 2, 2023

3 minutes read
THE press conference that Attorney General Reginald Armour called to talk about the High Court judgement involving the payout of $20 million to nine ex-murder accused men was bizarre.
This is according to Opposition Leader Kamla Persad-Bissessar who said it only raised more questions than answers. 
In a statement on Wednesday, Persad-Bissessar said Armour was not taking responsibility for what occurred at an arm of his Office and was casting blame on everyone else other than himself, his predecessor Faris Al-Rawi and Prime Minister Dr Keith Rowley.
She said, "It is simply beyond belief that a file against the state involving one of the most high-profile murder cases in our nation's history can "simply disappear" from the office of the Solicitor General. It also beggar's belief that Mr Armour feels he can distance himself from this scandal even though the Solicitor General's office falls directly under his control."
Calling the situation scandal, she said it  represented a serious indictment on the competence and integrity of Armour, Al Rawi and Dr Rowley and should serve as grounds for immediate resignations. 
Persad-Bissessar added that the Rowley-led administration constantly demonstrate that they believe they were above the law and above demands for accountability from the citizens of Trinidad and Tobago.  
She said, "The people of Trinidad and Tobago do not need another bogus investigation controlled by Rowley and his cronies. The only thing citizens of Trinidad and Tobago are now demanding is for this PNM Government to disappear."