Couva Hospital and Multi-Training Facility. Azlan Mohammed/AZP News
8 Covid-19 Patients Being Admitted Per Day in Hospital
May 1, 2021
203

4 minutes read
FOR every ten positive Covid-19 patients hospitalised in Trinidad and Tobago, only two are discharged.
This was revealed by Principal Medical Officer, Institutions, in the Ministry of Health Dr Maryam Abdool-Richards at the virtual presser on Saturday.
The net gain therefore was eight patients being admitted into the parallel healthcare system every day.
If this trend continues the system will be overwhelmed within three weeks to one month, the doctor said.
Dr Abdool-Richards said the rolling seven-day average was 191 cases per day. She said ten percent of these confirmed cases required hospitalisation.
She added, "That means for every 100 positive cases, ten persons need to be admitted to a hospital in the parallel healthcare system."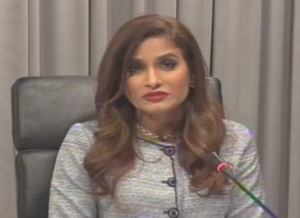 Dr Abdool-Richards said, "It means as well that in terms of how ill these person are and the severity of their condition, that even though we are admitting ten persons for every 100 (positive cases) we are only discharging two for every 100.
"So there is a net gain of eight persons per 100 cases in the hospitals of the parallel healthcare system on a daily basis."
Dr Abdool-Richards said, "If we continue on this trend, especially given the recent numbers of 326, 328 per day; we would not have the parallel healthcare system available when we really need a bed for yourself, for your co-worker, for your family and others."
Asked by AZPNews.com how long at the current rate it would take to reach capacity, she said within three weeks to a month.
Dr Abdool-Richards said the net gain of eight persons per day was based on 100 new cases per day.
She said there were 183 persons in hospital as of yesterday (Friday) with capacity of 500, it means that about 300 spaces were left.
Dr Abdool-Richards said, "At a rate of 100 or 150 cases per day the beds can be utilitised within three weeks to a month."
She said the could be be curbed, if people continued to adhere to Covid-19 protocols.
Dr Abdool-Richards said the Ministry of Health had contingency measures in place to accommodate the increases in the number of Covid 19 cases
"However, this is not a panacea; this a contingency measure."  Dr. Abdool-Richards said.
She said the Arima General Hospital which was offline for Covid-19 patients was reactivated with 67 beds and ten patients have already been admitted.
Abdool-Richards said at the Couva Hospital and Multi-Training Facility, 50 additional ward level, intensive care unit (ICU) and high dependency unit (HDU) beds have been added.
She said, "These beds were quickly becoming occupied with ill Covid-19 patients."
The doctor said the Augustus Long Hospital under the South West Regional Health Authority (SWRHA) was transitioned to now treat with confirmed Covid positive cases with 48 more beds.
Dr Abdool-Richards said, "As of 10 am this morning, the overall hospital occupancy is 24 % but that decrease is really because we have added 67 beds at Arima and another 50 at Couva which increases the overall capacity of this system."
She said if the new beds were not added the occupancy rate would have been closer in the range of 37% to 40 %.
The following is a breakdown of the increase in hospital bed capacity levels:
Ward Level – 42%
ICU – 21%
HDU – 25%
She said people with pre-existing conditions were presenting themselves very ill to hospitals.
Dr Abdool-Richards said, "We are seeing a deterioration from ward level care to ICU and HDU care.
"This current situation stands to test the resilience of the parallel healthcare system."