48 Police Officers Promoted
February 16, 2020
84

3 minutes read
PORT-OF-SPAIN – FORTY-EIGHT police officers receive promotions to ranks of superintendent, assistant superintendent and sergeant at the Police Administration Building in Port-of-Spain on Friday.
The 48 promoted consisted of ten inspectors, who are now assistant superintendents, nine assistant superintendents who are now superintendents, and 29 corporals who are now sergeants.
"The TTPS is on the threshold of modernization and transformation, and as leaders, the officers must be the catalyst with the way they act and approach their duties as it will play a part in how quickly the TTPS develops as a Police Service," said Commissioner of Police Gary Griffith.
He added that officers are expected to operate at a high standard and remove rogue elements.
Griffith also assured them of his continued support and recognition whilst they work together to get the job done.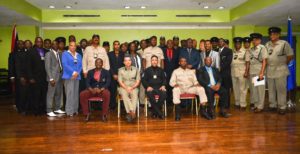 Also present were Deputy Commissioner of Police Jayson Forde, Deputy of Commissioner of Police Irwin Hackshaw, Deputy Commissioner Mc Donald Jacob and Trinidad and Tobago Police Service Social and Welfare Association TTPSSWA President acting Inspector Gideon Dickson.