The Price Club Donates Kindles, Laptops to Students
October 16, 2020
49

3 minutes read
By Azlan Mohammed
THE Price Club in Chaguanas gives devices to students across the country to help with schooling during the Covid-19 pandemic.
As part of its drive to help with online learning, the business distributed ten Kindles and six laptops to schools in the borough of Chaguanas on Thursday.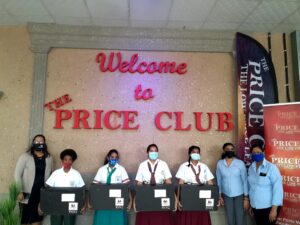 Rianna Pancham-Sony, the head of Human Resources at The Price Club, said this was an initiative done by the business and was not because of the request of any other agency or government body.
She said, "Upon the start of the new semester and implementation of online classes by the Ministry of Education, we noticed the need for devices by children to access online classes from our employees and customers alike."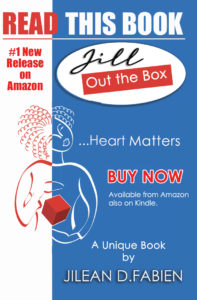 Pancham-Sony said Thursday's distribution was phase two of distributions of devices to needy students.
She said at the beginning of the Covid-19 pandemic, The Price Club provided devices to members of staff whose children needed devices for online learning.
Schools in Trinidad and Tobago have been closed since the middle of March and online classes have been a challenge for some children who do not have devices for connection.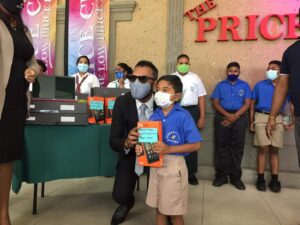 The Mayor of Chaguanas Faaiq Mohammed assisted with distribution on Thursday and Pancham-Sony said principals of the various schools identified who received the devices.
Students receiving devices were from Charlieville Presbyterian Primary School, Durham Village Hindu School, Felicity SDMS Hindu School, Seereeram Memorial Vedic School, Chaguanas Government Primary School, Saraswati Girls Hindu College, ASJA Girls College Charlieville and ASJA Boys College Charlieville.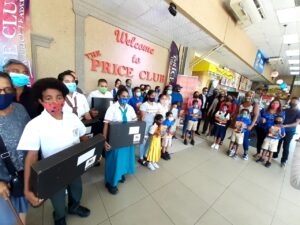 Pancham-Sony said this distribution was part of the corporate social responsibility of The Price Club which over the past few years has assisted flood victims throughout the country and not only provided them with cleaning supplies and groceries but hot meals too.
She third phase distribution was scheduled for early November.