Police Hold Suspect for Savannah Fire
POLICE have arrested a suspect for a fire at the Queen's Park Savannah on Tuesday.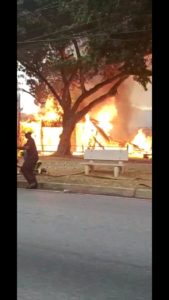 A few of the buildings used by vendors during the Carnival season were on fire on Tuesday and fire tenders responded but were unable to save at least three of these wooden huts.
The suspect of Belmont was arrested minutes after the fire was reported.
Video: