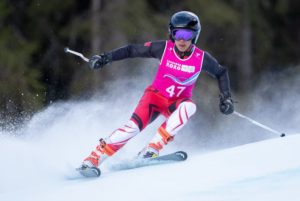 LAUSANNE – ABIGAIL VIEIRA  creates history by becoming the first person to participate on behalf of Trinidad and Tobago in the Winter Youth Olympics games.
The US-born athlete chose to represent the homeland of both her parents.
The 17-year-old said, "I just thought it would be a great opportunity to show that part of me. It is very special to me because my parents are from Trinidad."
Vieira competed in the first medal at the Lausanne 2020 – the women's Super-G at Les Diablerets.
She placed 42nd out of 62 competitors. She finished in 1 minute, 2.58 seconds.
Vieira's father Richard, who is the chef de mission for the Trinidad and Tobago team, said it was an honour to see his younger daughter on the Olympic stage.
He said, "I am proud, excited and overwhelmed. I feel blessed to see her competing and doing it for Trinidad and Tobago as well."
Abigail will be competing again on Saturday in the combined slalom.