Criminal Injuries Board Appointed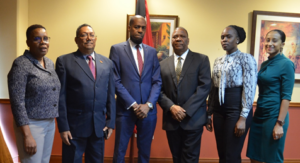 MEMBERS of the Criminal Injuries Compensation Board (CICB) are appointed by the Permanent Secretary of the Ministry of National Security Vel Lewis on Monday.
Lewis presented the instruments of appointment to board members at the Ministry's Office at Tower C, International Waterfront Complex, Wrightson Road, Port-of-Spain.
Attorney Alvin Pascall has been appointed chairman and has served on the CICB since its inception. He is currently the head of the Legal Department at the Ministry of Housing and Urban Development.
Other members include: Commander Israel Dowlat, Assistant Chief Staff Officer Medical, Trinidad and Tobago Defence Force; Sasha Franklin, attorney; Kimoy Thomas, attorney; Dr Krishna Maharaj, psychologist; Christine John-Guy, Deputy Director, Social Welfare Division, Ministry of Social Development and Family Services; and Crystal Edwards, Marine Wildlife and Conservation Biologist, representing the Tobago House of Assembly.
The CICB was established in 2006 to provide compensation to persons or dependents of persons who have suffered injury as a direct result of violent crime as defined in the Criminal Injuries Compensation Act 21 of 1999.
The board has the mandate to evaluate and determine applications for compensation of victims or their dependents as provided for in the Act.