THE only active case of Covid-19 in Trinidad and Tobago is a mild one.
This was revealed by Chief Medical Officer Dr Roshan Parasram at the virtual media conference on Monday morning.
Minister of Health Terrence Deyalsingh said the patient was brought into the country last week via air ambulance from Houston in Texas.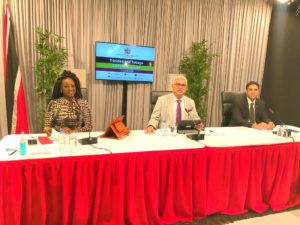 He said the patient and family were not allowed to go home so there was no chance of anyone contracting the virus.
A question was asked by AZPNews.com about why the patient was housed at the Home of Football in Couva and not at the Couva Hospital and Multi-training Facility where positive patients were usually kept.
Chief Medical Officer Dr Roshan Parasram said, "I was told by the Caribbean Public Health Agency that it seems like a weakly positive result."
He said this meant that the period of infection would have passed "in terms of significant infection and they (the patient) were now in a convalescent stage."
Parasram said the Home of Football has been used as convalescent facility to decant patients in the past.
He said if the symptoms got worse then the patient will be placed in one of the hospitals that treat with Covid-19.