95 New Motorcycle Officers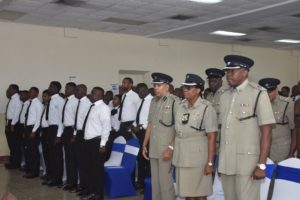 NINETY-five members of the Special Reserve Police (SRP) graduate as motorcycle officers in the Trinidad and Tobago Police Service (TTPS).
The graduation exercise took place on Wednesday at the Police Academy on Samaan Drive, St James.
Speaking to the graduates, Commandant, Special Reserve Police, Harrikrishen Baldeo said, "Errant motorists have been causing carnage and mayhem on the roadways. Your presence will be a strong deterrent for dysfunctional behaviour."
He told the officers that their presence will help return a sense of faith and trust in the TTPS.
Acting Training Officer Inspector Cynthia Romeo-Dick congratulated the new officers on having successfully completed their training programme which included Police Procedures, Law of Evidence, Criminal Law, Traffic Laws, Behavioural Science and Motorcycle Operations.