Dr Roshan Parasram
T&T's Covid-19 Death Rate Not Spectacular
July 21, 2021
324

5 minutes read
By Prior Beharry
TRINIDAD and Tobago's death rate due to Covid-19 is neither spectacular nor unusually high.
This according to Chief Medical Officer Dr Roshan Parasram and Technical Director Epidemiology in the Ministry of Health Dr Avery Hinds.
They were responding to a question from AZPNews.com at the ministry's virtual presser on Wednesday.
Dr Hinds said, "The death rate in T&T is not spectacular and not unusually high. Looking at the countries above and below that global average you will note that the UK, Italy and Germany are also above the global average because there is a wide range of case fatality rates.
"For example, with the age distribution of those being infected leaning towards the older and some of the more vulnerable individuals."
He said Italy has a case fatality rate 2.99% while T&T's was 2.75%.
On Tuesday, the Health Ministry reported 1,000 deaths due Covid-19 in T&T.
There were 873 deaths due to the coronavirus in 2021 – an average of four deaths per day for the year.
Dr Parasram said T&T does not have the highest deaths rate in terms of case fatality rate in the world due to Covid-19.
He said the span included countries  with very low death rates of 0.1% all the way up to 14 % , 15 % and beyond with some countries in the 20 percentile.
Dr Parasram said, "It depends on the people that are being infected. We look at the epidemiological profile of the people that are being infected. We have a high prevalence rate of diabetes, Dr Hinds has said that we have seen a large portion of the people over 60 being infected."
He said 85% of the Covid-19 deaths occurred in people over the age of 50, adding that those under 50 who have succumbed to the illness "for the most part" had comorbidities such as diabetes, asthma or some other illness.
Dr Parasram said, "So it depends on who is being infected. Trinidad would have had a death rate of 1.7 (%) in phase two and continuing into the early parts of phase three. In the recent past it has gone up to 2.75 (%) which is similar to the UK, similar to other countries around the world.
"It matters who is infected. So if 33,000 people that were infected so far, belonged to a group of people 20 to 40 years of age without comorbidities our death rate would have been much lower."
He said this is why from the beginning of vaccination, the ministry has focused on the vulnerable groups such as people over 60 and those below 60 with pre-existing conditions.
Dr Hinds said, "So I don't want the understanding to be that there is higher than normal or higher than expected or a higher than acceptable case fatality rate.
"Every death is one that we try to avoid. Every outcome that is unfavourable, every outcome that is fatal is one that the health system has worked hard to avoid and was unable to do so.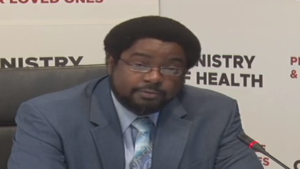 "And the improvements in case fatality are going to be along the lines of reducing vulnerability and accessing care as early as possible."
He said one way to reduce vulnerability was to take the vaccine.
Dr Parasram said many factors contributed to deaths due to Covid-19 in T&T.
He said, "Of course if you have a population with a higher degree of comorbidities as it starts, there's is a higher proportion or a higher chance of one of those people becoming infected. And of course if a greater amount of those people become infected of course it will mean a greater amount of those people having complications and of course possible succumbing to the illness."