Collection of the 33,600 vaccines from COVAX on Tuesday. From left acting Principal Pharmacist Ministry of Health Anesa Doodnath-Siboo; PAHO/WHO Country Representative Dr Erica Wheeler; Minister of Health Terrence Deyalsing; Chief Medical Officer Dr Roshan Parasram; and Manager, Expanded Programme on Immunization Grace Sookchand. Photo/Ministry of Health
T&T Covid-19 Vaccines Expire Before 2nd Dose
March 31, 2021
4543

4 minutes read
By Prior Beharry
THE 33,600 Covid-19 vaccines Trinidad and Tobago received from the COVAX facility will expire on May 31, 2021.
This is before the second doses are to be administered.
T&T received the Oxford AstraZeneca vaccine on Tuesday. Health Minister Terrence Deyalsingh said rollout will begin on Tuesday (April 6, 2021) with an aim to give 1,000 jabs per day at 21 sites across T&T.
---
CSP advertisement
---
Chief Medical Officer Dr Roshan Parasram made the announcement about the expiry date of the vaccines at the virtual presser of the Ministry of Health on Wednesday.
He said, "The vaccines are due to expire on the 31st of May 2021. Which from today's date gives us approximately two months or eight weeks from the start of use to end of use."
Dr Parasram said the manufacturer had said the second dose should be administered within 21 to 28 days but the new recommendation of the World Health Organization was for between eight to 12 weeks.

He said half of the vaccines will be used in the first instance and then a determination will be made whether to use the rest for more first doses and wait for the second tranche due in May.
Pan American Health Organization/WHO Country Representative Dr Erica Wheeler said by the end of May 100,800 doses from COVAX should be delivered to T&T.
She said COVAX should be in position to distribute Johnson & Johnson vaccines in June.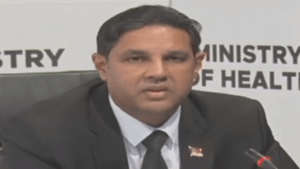 AZPNews.com pressed the issue, during the questions segment at the virtual presser, of the expiry date of the vaccines and its effectiveness if the second dose is administered before eight weeks after the first dose or subsequent to the expiry.
Dr Parasram replied, "What we found now in terms of the research, once you have the first dose of this particular vaccine you roughly have about 76% protection with one single dose, that goes up to about somewhere about 82%, 84% with a second dose given up to manufacturing specification meaning 21 to 28 days apart; the studies have shown thereafter that if you go closer to 12 weeks you getting into the nineties.
"So it is not a very large drop in efficacy but maximum efficacy will be getting closer to that 12 weeks interval and that is what we will aim for and again it depends on the delivery of that second tranche of AstraZeneca."