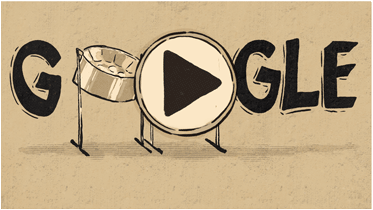 Steelpan on Google Doodle
July 26, 2022
648

7 minutes read

By Sue-Ann Wayow
TRINIDAD and Tobago's national instrument, the steelpan is being honoured by top search engine Google.
The steelpan has been highlighted as a Google Doodle.
A video was posted on Google Doodle Youtube channel on Monday and has already crossed three million views.
Featuring the sounds of sweet pan, the Doodle 1.10 minute video displays a  summarised history of the instrument which stems from even the colonial days.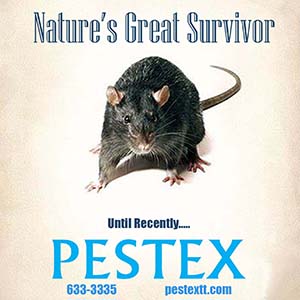 Although the video itself has no voice-over, Google Doodle stated in its historical overview, "It's the only acoustic instrument invented in the twentieth century, but has origins dating back to the 1700's. It was a staple during Carnival and Canboulay, the annual harvest festivals celebrated in Trinidad, and is still used in contemporary music."
The Doodle coincides with 71st anniversary of the Trinidad All-Steel Pan Percussion Orchestra's (TASPO) performance at the Festival of Britain, which introduced the steelpan and a new music genre to the world. It also comes just as Trinidad and Tobago is gearing up to celebrate its 60th Independence anniversary.
"The steelpan is now the national instrument of Trinidad and Tobago, and is a source of great pride and true resilience for its citizens. Steelpans are now enjoyed in concert calls like Royal Albert Hall, Carnegie Hall, the Kennedy Center and more. Whether in the UK or Japan, Senegal or the States, the steelpan is an internationally recognized instrument that reminds listeners of its island origins," Doodle stated. Trinidad and Tobago-based Nicholas Huggins was the visual artiste behind the Doodle.
Steelpan soloist composer was Lennox "Boogsie" Sharpe, steelpan musician composer–Etienne Charles, the steelpan musicians included Josanne Francis, Jonathan Castro and Luke Walker and Mike See stood in as motion designer.


Huggins in an interview with Google Doodle said, "When I was first approached to tackle such a culturally significant topic for this Doodle, I was a bit nervous because I wanted the story being told to be one that Trinbagonians worldwide would be proud of. I was also very excited because I love creating art that showcases Trinidad & Tobago and this Doodle will allow my country to be showcased on one of the biggest online stages."
He added, "I drew inspiration from the early innovators behind the story of the Steel Pan. Without them, there is no Pan and the landscape of Trinidad & Tobago, and the entire world in fact, would be much different. These early pan-men like Winston Spree Simon and Ellie Mannette are inspiring for any Trinbagonian."
Charles said he drew inspiration from his first time on the road with a steelband, and his first times hearing the full band sound, as well as Boogsie's music.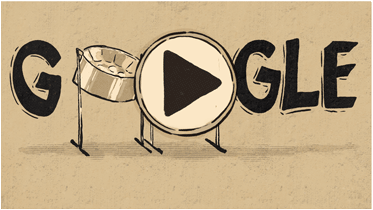 Huggins is hoping that persons can appreciate the industriousness and creativity of the people of Trinidad & Tobago. 
"We are a small country on the global stage but the fact that we have given the world such a beautiful instrument is something to be held in the highest regard," he said.
Charles said, "I'd like people to feel the magic in the steelpan. An instrument born out of Afro-descendant resistance in Trinidad.  A symbol of community, artistic excellence, and scientific innovation. Hopefully this makes people more inclined to come to hear pan in its birthplace and feel the energy that comes from it. It's really like nothing else."
A search on Google revealed: Doodles are the fun, surprising, and sometimes spontaneous changes that are made to the Google logo to celebrate holidays, anniversaries, and the lives of famous artists, pioneers, and scientists