Dr Roshan Parasram
See Places Recommended for Mask Wearing
By Sue-Ann Wayow
DO not be so quick to dump your masks when the mask-wearing mandate ends on Saturday.
The population is being strongly advised to continue wearing masks in certain settings by both Health Minister Terrence Deyalsingh and Chief Medical Officer Dr Roshan Parasram.
Speaking at the Ministry of Health's virtual media conference on Wednesday, they said although it would no longer be law, it was still a safe measure in managing the spread of the virus that has killed millions around the world and over 4,000 in Trinidad and Tobago.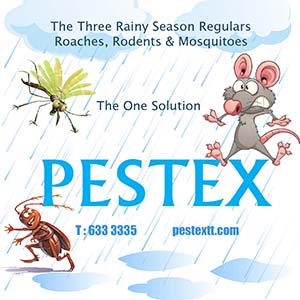 Dr Parasram detailed the varied settings in which a person should still consider wearing a mask.
The mask mandate will end on Saturday and will only be mandatory for public and private health institutions inclusive of general practitioners' clinics and dental clinics.
Deyalsingh added that apart from that, there will be no other public health measure when the new measures take effect.
Dr Parasram said there were three levels of risk that should be considered.
These were population-level risk, individual level risk and site or event–specific risks.
He said that persons can continue monitoring the ministry's website for information on cases and deaths and other related information and decide if they still want to wear a mask in public.
For the individual level risk, Dr Parasram said immunocompromised individuals, persons with underlying medical conditions, those with obesity, pregnant women, individuals aged 60 and over and unvaccinated and not fully vaccinated individuals should still wear a mask.
Dr Parasram said that it was noted internationally, persons who were obese even without comorbidities have had severe consequences as a result of Covid-19. 
For site or event-specific risks assessment, the site should be considered whether outdoors or indoors and if they were properly ventilated, he explained.
Settings which are recommended for mask wearing include:
Retail settings inclusive of groceries and malls;

Public transportation and transportation hubs:

Ports of entry;

Mass gathering;

Pharmacies;

Schools and educational establishments;

Workplaces;

Places of worship;

Beauty salons and barbershops;

Spas; and

Cinemas and theatres.
Dr Parasram said persons should, especially where the mask in crowded and close settings such as an airplane or at peak grocery shopping times.
He said, "The same setting can also be catergorised at different risk levels for different people. For example, at a grocery store at non-peak hours may be a medium risk setting for consumers but it may also be a high-risk setting for some-one who works throughout the day for example a cashier because they would interact with a large number of people coming in who are unknown to them."
In his presentation, the CMO added that physical distancing, protective screens, and hand sanitising should also continue to be implemented.
Dr Parasram, "Most importantly, staying at home and away from places like at work  or school when displaying flu-like symptoms will decrease the risk of transmission."
Deyalsingh added that the decision to have mask worn at an establishment will be determined by the individual entities.