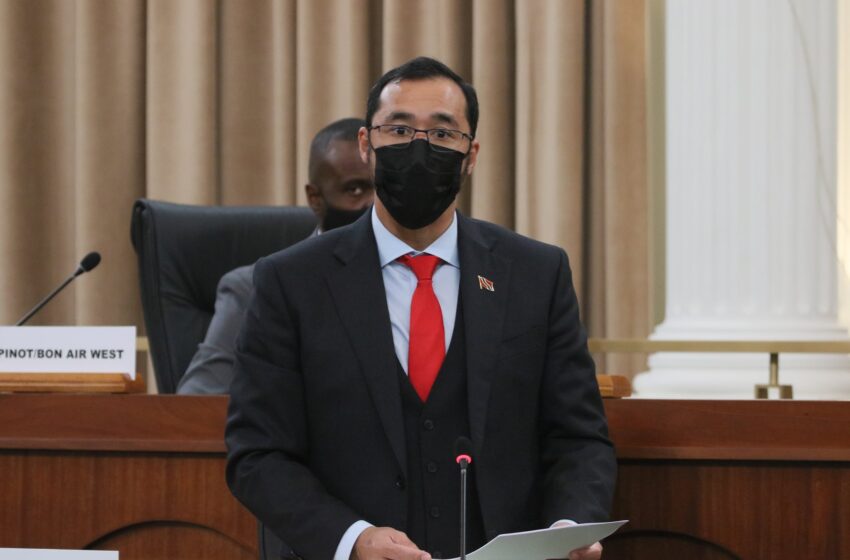 Stuart Young. Photo:/TT Parliament
Port-of-Spain North/St Ann's West Standing by Young
January 15, 2021
0

3 minutes read
THE United National Congress (UNC) is intent on destabilising the government, standing against key pieces of legislation and then accusing the government of not being able to deliver on its promises.
Public Relations Officer for the People's National Movement (PNM) of the Port-of-Spain North/St Ann's West Constituency Hillan Morean in a press release on Thursday said the entire constituency was standing with their parliamentary representative and Minister of National Security  Stuart Young who has a motion of no-confidence filed against him.
The UNC stated on Wednesday, "Mr Stuart Young has proven himself to be the most incompetent, ineffective, even bordering on dangerous minister of national security to ever hold office. Every day he remains in office is a further threat to our safety and security as citizens of Trinidad and Tobago. A full case will be presented in the Parliament outlining every detail and every instance where he has placed the security and reputation of our nation at risk."
Hillan Morean said, "It is clear that the UNC Opposition is set on maintaining its well established obstructionist techniques, seeking at every turn to make barren the soil that the Government wishes to plant seeds of progress in. They destabilise the farmer and then come to claim he's not providing.
"This UNC Opposition is not fit to be a responsible Opposition that contributes holistically and objectively to policy. In as much as they hope to parade and attack the diligent and hardworking servant that is the Honourable Stuart Young, it only continues to reveal the mockery of their disservice."
Morean said the UNC stood against two main bills that would have assisted greatly in the fight against crime, the Bail Bill and the anti-gang legislation causing the law to die on November 29, 2020 despite appeals from Commissioner of Police Gary Griffith.
He listed others pieces of legislation that did not garner support from the Opposition.
"They further did not support the Sexual Offenders Bill which was designed to set up a registry of sexual offenders. White collar crime has been pinpointed as focal in the war on crime as a whole, yet, the same UNC Opposition absented itself from the Unexplained Wealth Bill and also from voting on the Civil Assets Recovery Bill, which would have allowed enforcement agencies the teeth to seize criminal assets. They voted against the Interception of Communications Bill, meant to cripple criminal networking in and outside of the jails."
Morean also said between 2002-2010, when the UNC was in Opposition, it voted against an additional 12 pieces of law relating to National Security.
Members of the constituency was grateful for the sober and scientific approach taken by the PNM Government  in which Young played a major role in maintaining the safety of all citizens, he added.
Opposition Leader Kamla Persad-Bissessar has filed a no-confidence motion in Young expected to be debated in Parliament next week.