Items being priced at Pennywise in Chaguanas. Photo: Azlan Mohammed
Pennywise CEO: No Coronavirus, but Increase Demand for Prescription Drugs
March 12, 2020
80

4 minutes read
ALTHOUGH there has been no confirmed case of the Coronavirus, now called Covid-19, in Trinidad and Tobago there is an increase in demand for prescription drugs for the cold.
This was revealed by Chief Executive Officer of Pennywise Costmetics Limited Dalvi Paladee in an interview with AZPNews.com on Thursday.
He said it was a strange occurrence since no one in TT has contracted the Covid-19 virus but yet at his pharmacies since last week they have seen an increase in prescription drugs being sold.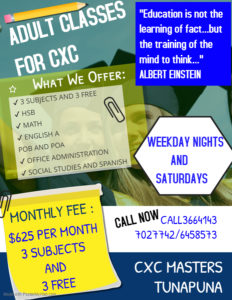 He said there is a shortage of hand sanitizers. He said his chain of stores was preparing for a rush of these items at the end of the month hence the reason why they will be receiving tonnes of hand sanitizers by April.
Paladee said, "Tonnes, literally tonnes. We have 300,000 pieces coming in between the end of March and the end of April."
The CEO said a lot of the local suppliers could not fill the demand for hand sanitizers.
He said everyday Pennywise was selling between 8,000 to 10,000 hand sanitizers in his ten stores.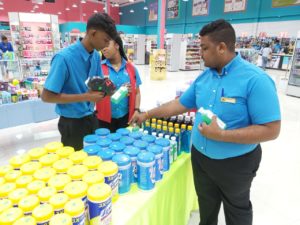 He said, "They sell out before lunchtime."
Paladee said he was working with the local companies to try to get the product to the consumer as soon as possible.
He said local producers of hand sanitizers were in short supply of the alcohol used in making them.
Paladee said Turkey and Panama have stopped the exportation of alcohol-based hand sanitizers since they were in great demand in these countries, fighting the Covid-19 virus.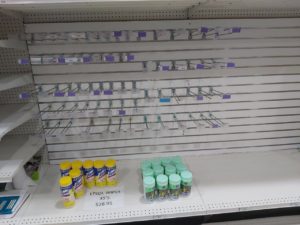 He said Pennywise was now rationing the Lysol spray to six per customer since it gets sold as soon as they were placed on the shelf.
Paladee claimed there would be no shortage of hand sanitizers by the beginning of April, as Pennywise will receive its shipment.
Regarding masks, he said the regular stock and the N95 masks were coming within two weeks. He said they were coming from China via airfreight.
Paladee said these masks have now doubled in price in the US and when they come to TT the prices will be about $10 for a regular mask and $25 for a N95.
He allayed any fears that the masks were coming from China, where the Covid-19 virus was said to have originated, saying the factory makes health equipment and will provide all the necessary certificates.
Related stories: