Monday Crime Round-up: Laventille Man Held in Toco for Weed
September 21, 2020
20

4 minutes read
Police Find 12-Guage Shotgun
By Sue-Ann Wayow
A 53-year-old Princes Town man was arrested on Monday after a 12-gauge shotgun was found at his residence.
Police reported that officers conducted an anti-crime exercise in the Princes Town district between the hours of 10 am and 2 pm.

The exercise involved the execution of a search warrant at a residence on Rig Road, Lothians Road, Princes Town. The shotgun, which had no serial number was found in a bedroom on the northern side of the home. The suspect was subsequently arrested by PC Basdeo.
The exercise was coordinated by Snr Supt Gaffar, Supt Doodhai, ASP Ali Mohammed, Insp Teeluck, Insp James, supervised by Sgt Mohammed and included officers from the Princes Town Criminal Investigation Department (CID).
Beretta Pistol, Ammo Seized
Police also reported that on Sunday, one Beretta pistol and six rounds of nine millimetre ammunition were found and seized during an anti-crime exercise conducted in Diego Martin.
During the exercise, officers received information that it was suspected that a firearm was hidden in a tool shed on an abandoned lot of land on Hillaire Street. Officers proceeded to the area, a search was conducted and the firearm and ammunition were found by the officers between two cement bags under a table.
The exercise was supervised by Snr Supt Thompson, coordinated by Insp Bruno, Sgt Carmona and Cpl Young, and included members of the Western Division Operations Unit.
Laventille Man Held in Toco for Weed
A 43-year-old man from Laventille was arrested in Toco after a quantity of cannabis was found in his vehicle on Sunday.
The arrest took place during a road check exercise conducted between the hours of 4.30pm and 7.20pm in the Toco Police district.
Officers stopped and searched a black Nissan Almera on the Toco Main Road in the vicinity of Chris Cove. A green plastic bag containing a plant-like material resembling cannabis was allegedly found on the floor of the passenger side of the vehicle.
The driver, who was the sole occupant of the vehicle, was arrested and taken to the Toco Police Station. The material found was weighed in his presence and amounted to 500 grammes.
The exercise was supervised by Ag Cpl Bhagan and conducted by officers of the Toco Police Station. PC Singh is continuing enquiries.
Police looking for Samuel Rogers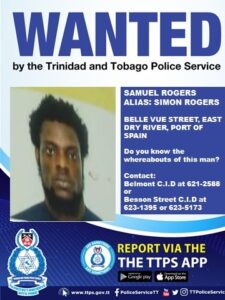 And police are asking the public's assistance in finding Samuel Rogers alias Simon Rogers of Belle Vue Street, East Dry River, Port-of-Spain. Anyone with information can inform Belmont or Besson Street CID.