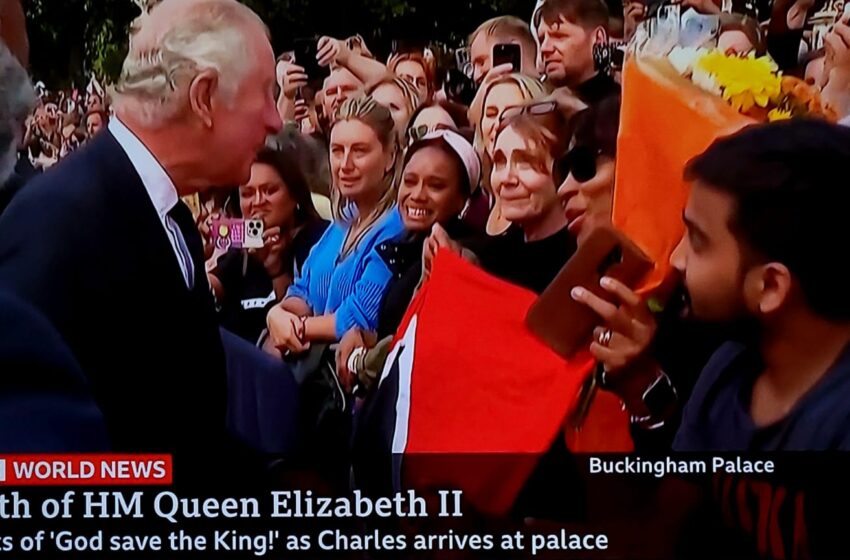 A screengrab from BBC live coverage of the passing of Queen Elizabeth II
King Charles III Touches T&T Flag Outside Buckingham Palace
September 9, 2022

3 minutes read
By Prior Beharry
IT is said that you can find a Trini anywhere; even outside Buckingham Palace in London to greet the new King as he arrived on Friday.
In a much-appreciated gesture, King Charles III stepped out of his vehicle and walked through the gates of the palace as he was about to take up official duty as Monarch following the death of his mother Queen Elizabeth II on Thursday.
But before stepping inside the Royal grounds, in a regal gesture, he went and shook hands with well-wishers standing on the pavement behind barricades.
One such person was a woman holding up the red, white and black national flag of Trinidad and Tobago. The King paused and looked at the woman who was heard saying "Trinidad and Tobago," as the event was carried live and streamed by English and international media networks.
The King touched the flag, nodded and moved on continuing shaking hands as his security detail could have been heard telling people to put down their cellphones and enjoy the moment.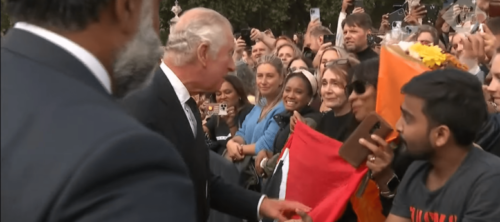 The King and his wife Camilla, Queen Consort of the United Kingdom, greeted people outside Buckingham Palace before looking at flowers and notes placed in from of the palace walls as part of the condolences to his mother.
They were shouts of "God save the King" with one woman kissing the King on his cheek and another on his hand.